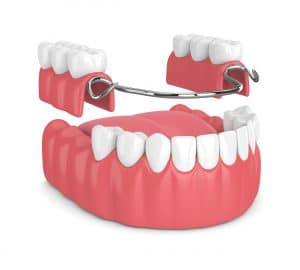 What if you have tooth loss too severe for a bridge, but not major enough to require a full set of dentures? In these scenarios, our team may suggest a partial prosthetic. In today's blog, your Ankeny, IA, dentist explains the benefits of a partial, and looks at how we design and craft them to ensure a lifelike appearance!
The Dangers of More Severe Tooth Loss
When we lose several teeth in a smile, and have gaps spread out across it, this could impact how we eat and limit our nutritional intake as we rely on soft foods more and more. We could also have trouble speaking clearly, and teeth could begin to drift from position due to the gaps, causing misalignment. The gaps could also upset bite balance and strain your jaw joints, two factors behind painful jaw joint disorders like TMD and bruxism (chronic teeth grinding). To prevent these complications and protect your smile, you need to fill these gaps with replacement teeth!
Creating a Partial
A partial denture is perfect for people with too many missing teeth to address with a bridge, but tooth loss not major enough to require extraction and a full denture. The prosthetic contains new teeth, known as pontics, which have been designed to look natural and blend with your smile. They can also absorb daily bite forces too. They will be set into a base that is crafted from acrylic and designed to mimic the appearance of gum tissues.
Removable and Implant-Supported
There are two main options. These removable dentures use metal clasps that attach to natural teeth to stay in place. They can last for 5 to 10 years on average, and are great for people who have lost too much bone tissue to support a dental implant. With the implant option, we insert multiple dental implants that secure a fixed prosthetic. No need to remove for soaking or cleaning, and they last for decades, maybe even a lifetime in some cases. The implants help stimulate the growth of jawbone tissue to prevent an older appearance of further tooth loss, two major complications of losing mass and density in your jawbone. If you have any questions about addressing missing teeth, or about which option is right for you, then contact our team today.
Do You Have Questions About Our Custom Prosthetics?
At Peddicord Family Dentistry, we're ready to return function, beauty, and health to your smile once more with a prosthetic. Remember, scheduling a visit now means you have a chance to see us and use any remaining 2020 dental insurance benefits before three expire at the end of December.  Call Dr. Peddicord in our Ankeny, IA office at (515) 963-3339 to learn more about our dentures and dental implants.