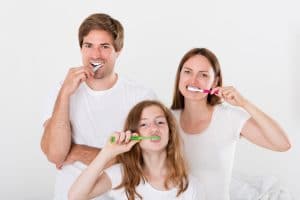 Of course, your goal with your family's dental care is to keep it on track and to make it the best that it can be. However, when you're worrying about yourself, a spouse, kids, and a whole slew of other responsibilities, figuring out how to maintain oral health can become a little challenging. Take a moment to think through our advice, so this area of your life becomes second nature!
Brush With Little Ones
Don't forget that if you want to keep everyone's smiles on track and you have little kids, it is absolutely essential that you brush and floss with them. Good news: This is beneficial for your kids and for you, too. As you practice morning and evening dental care together, you're making sure that you get through your dental hygiene. You also make sure your kids practice dental care and that they do it correctly (without swallowing toothpaste or mouth wash).
Check On The Whole Crew
Who is accountable to who in your household? Do you check in with your spouse regarding brushing and flossing? Do you check on your teens? To ensure your family is on track with dental care, create a system (even if it just means checking in with everyone) so that all family members are brushing twice a day and flossing the required once daily. Remember, this is the very simple method of protecting smiles at home!
Call Us And Write Dates Down
Call us to set up your family's professional dental care. Remember that you need six-month checkups and cleanings, your children require them, your spouse needs them, and so does any other household member. Keep visits scheduled in advance, write them down on your calendar, and you'll be on track with your oral health responsibilities!
Make Family Dental Care Easy With Our Help
See our team for cleanings, checkups, and any kind of advice you might need to keep your family's oral health safe! Find out if you're making good choices by scheduling a visit with your Ankeny, IA dentist today! Contact Peddicord Family Dentistry to set up an appointment by calling 515-963-3339.