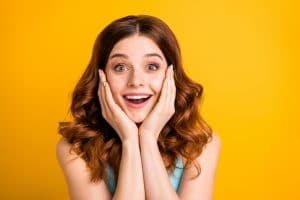 Did you know that it's actually completely possible, if not likely, that you can feel amazing about your smile? So, you wonder, how to make this a probable thing rather than just something with reasonably decent potential? Fortunately, our Ankeny, IA team is happy to report that switching from feeling apathetic to just "okay" about your grin to out-of-this-world pleased means following some simple suggestions and making your way through essential care. Of course, we've broken it all down for you into some easy-to-do steps toward dental care success!
Keep It Very Clean
If you want to feel amazing about your smile, then one thing is always going to be a constant: You need to keep it nice and clean. When you don't keep it clean, it feels dirty and it will look dirty. You will also remain aware that you're headed toward problems for your oral health. On the other hand, when you're brushing your smile and you're flossing it and you're also remembering that seeing us for cleanings is essential, your teeth and gums stay clean. They remain safe. You, of course, then feel wonderfully amazing about your efforts!
See Us To Address What Doesn't Feel Amazing
Something feeling wrong with your smile? Maybe you're just worried about your oral health in general. When there's something that doesn't fit into the category of "my smile is healthy and safe," then it's a change that you should bring to our attention. That way, instead of feeling nervous or uncomfortable about your smile or instead of ignoring something that can worsen, you're addressing the issue with dental care and you're letting your smile get back to its status of fantastic!
Get The Knowledge You Need
If you're not feeling knowledgeable about your smile and your dental care, then you're going to feel somewhat lost or unsure. This is certainly not equivalent to feeling amazing. So, how to fix the situation? Ask us questions. We're open to answering whatever you'd like to know about protecting and improving your smile.
Make It Look More Impressive, Too
Maybe your smile is in exceptional health but you're not amazed quite yet. Why is that? Well, because it doesn't look like anything special. Not to worry: We can get you to that point! You just need to find out more in terms of how cosmetic dental care can help you. See our team soon.
See Us For Help Attaining An Amazing Grin
Keep your smile looking good and feeling fantastic, all by simply seeing our team for your twice-a-year visits. Get your questions answered, receive essential care, and discuss cosmetic options with us! Find out if you're making good choices by scheduling a visit with your Ankeny, IA dentist today! Contact Peddicord Family Dentistry to set up an appointment by calling 515-963-3339.