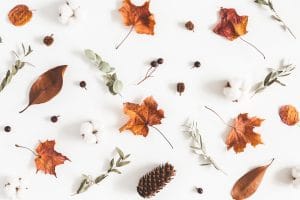 You may have recently taken a look at the calendar, as you revisit the idea of seeking cosmetic care for your smile. Autumn is approaching, which means … well … you're not sure what it means. You know that it means we are headed toward holiday time, that the weather will change, and that you'd actually really like it if your smile looked amazing for all of those particulars. However, the whole timing-and-cosmetic-treatments thing isn't something you feel confident navigating. Good news: Our Ankeny, IA team can help you with that!
What About The Staining Fall-Time Foods I Love?
Autumn is coming and you pretty much love spending your every single day sipping on a pumpkin-flavored coffee drink. You're wondering, of course, if this means that it's a bad time for teeth whitening and other cosmetic care because you don't want to immediately stain your freshly treated smile! Allow us to remind you that your daily habits will also pose a bit of a threat to the vibrancy of your smile. It's why you brush, floss, and rinse after such treats. Now is as good a time as ever, as long as you remember to simply keep your smile clean!
Can I Achieve A Change Before The Holidays?
Most likely! Remember that the sooner you come in, the sooner we can verify your candidacy (or help you get there), and then perform the treatment you want for a prettier smile by holiday time!
What If I Still Need My Second Checkup And Cleaning?
This is not an obstacle! Remember, in order to qualify for cosmetic care, you will need to see us to discuss the details and to ensure your smile is ready. As a result, you may wish to set up your next dental checkup and cleaning very soon, so we may use this time to give you the go ahead on setting up the treatment you desire. Or, if you've already been given the green light by our team, remember that choosing whitening, veneers, etc., will not impact your preventive care schedule. You will continue to see us as always, scheduling twice-a-year visits! Still have questions? Just give our team a call!
What If I Haven't Investigated Cosmetic Treatments Yet?
Simply schedule a consultation with us to discuss cosmetic dentistry and we can very quickly inform you about your options (and answer any questions you may have).
Get Ready For Cosmetic Care This Fall
Let us know if autumn is a good time for you to get going with making beautiful improvements to your smile with the help of cosmetic dentistry! Set up the dental care you want with us soon for gorgeous results! Find out if you're making good choices by scheduling a visit with your Ankeny, IA dentist today! Contact Peddicord Family Dentistry to set up an appointment by calling 515-963-3339.