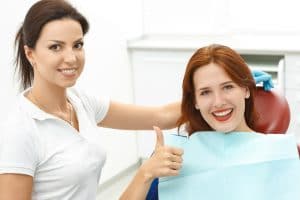 The successful treatment of a cavity is a matter of stopping decay, and ensuring that your tooth is properly restored after that removal of damaged tissue. Thanks to the use of modern restorations, your Ankeny, IA dentist is able to provide you with dental work that keeps your tooth safe, while also letting your smile retain its natural look. One thing you should know is that when you think something might be wrong, you should seek out dental treatment as soon as possible. As long as a cavity remains on your tooth, it will do increasing damage.
The Severity Of Your Cavity Will Impact How Your Dentist Provides Care
When your dentist evaluates your tooth, they are looking to determine what kind of treatment is called for to properly restore it. If the decay is only damaging your enamel, you can require a dental filling to support your tooth. Fillings are made from composite resin, bond with your tooth, and provide lasting support. If decay has led to an infection in the interior of your tooth, your dentist can provide a root canal treatment. This will protect you from the serious harm that can occur when an internal infection develops. Dental crowns are used to cover teeth after root canals, as well as in any other situation where a filling is not enough protection.
Worried About Your Smile After Cavity Treatment? Good News About Modern Restorations
Dental fillings and dental crowns are made with life-like materials, so they avoid leaving you with unattractive or unsightly restorations. While these restorations are regarded highly because of their durability, you can count on them for great support.
Talk To Peddicord Family Dentistry About Arranging Cavity Care
If you suspect you might need a cavity treatment, Peddicord Family Dentistry can provide outstanding care. Our practice is ready to help you deal with tooth decay, and we can offer great preventive and cosmetic procedures. To schedule an appointment at Peddicord Family Dentistry, call our Ankeny, IA, dental office today at 515-963-3339. We also proudly provide a range of oral health services to patients of all ages from Bondurant, Polk City, Elkhart, Alleman, Cambridge, and all surrounding areas.