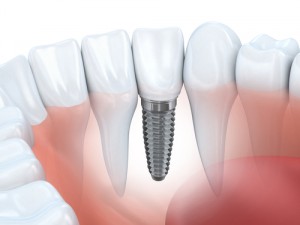 For many people, losing teeth can be a source of embarrassment, hurting their overall appearance. In addition, missing teeth can endanger the health and stability of the smile. Fortunately, a number of options exist for replacing lost teeth and returning smiles to full function, health, and beauty.
Replacing Missing Teeth Quiz
True or False: Tooth loss hurts your oral health.
True or False: A dental bridge replaces missing teeth.
True or False: Dental implants replace every part of a lost tooth.
True or False: We offer both full and partial dentures.
Answer Key
True. Losing a tooth can cause misalignment to develop as surrounding teeth drift towards the empty pockets. Uneven teeth can boost the risk of cavities and gum disease. Patients may also experience jawbone deterioration as the body registers the loss of a tooth root can stops supplying the jaw with necessary nutrients. Patients then may lose additional teeth and develop an aged appearance.
True. A bridge consists of artificial teeth with dental crowns attached to each side. We place the crowns onto the natural teeth in the arch, which secures the prosthesis. This option replaces one or more teeth in a row.
True. Unlike dentures or bridges, which only replace the upper portion of a tooth, the implant acts as a new tooth root and a restoration replaces the upper portion, or crown.
True. Full dentures work best for patients missing all of their teeth on the upper and/or lower arches. Partial dentures replace multiple teeth scattered across the arch. Which option works best will depend in the cause and extent of your tooth loss.
About Your Ankeny Dentist
Dr. Peddicord offers a complete range of preventative, cosmetic, and restorative dental procedures as well as high quality dental prosthetics. Dr. Peddicord can answer your inquiries, and provide the services you need to maintain the health, beauty, and function of your teeth. To schedule an appointment at Peddicord Family Dentistry, please contact us at 515-963-3339. Our Ankeny, IA dentist's office proudly provides general and cosmetic dentistry services to patients from Bondurant, Polk City, Elkhart, Alleman, and Cambridge.