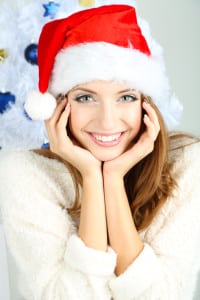 Would you like to enter the quickly-approaching holiday season with a refreshed smile that has a bit more sparkle? Cosmetic dentistry offers a number of ways to help correct esthetic issues, from discoloration to gaps between teeth, creating a more dazzling smile in the process. From veneers to whitening, there are a a number of treatments that can help erase imperfections and improve the appearance of your pearly whites, that way you can move forward with more confidence, prepared to celebrate in style.
Know Your Cosmetic Options
Most people have heard of whitening and veneers, as forms of cosmetic dentistry. But those are not the only ways to enhance your smile. Bonding and contouring are other ways a dentist can help improve your smile.
Like veneers, bonding helps make your smile more symmetrical by addressing any teeth that are disproportionally small or overly sharp or misshapen. Only, bonding can be completed in as little as an hour during a single office visit, making it one of the fastest and most affordable ways to improve a smile.
Veneers can also improve shape and size issues with your teeth, by covering them with durable and stain-resistant porcelain veneers. Plus, because porcelain can be custom crafted to closely match your teeth's natural contouring, it creates a seamless finish that can last more than a decade with proper preventive care.
Whitening is another quick way to fix smile concerns, namely discoloration or staining. Unlike over-the-counter products, professional whitening is made to produce dramatic results, fast, by lightening teeth several shades over the course of treatment.