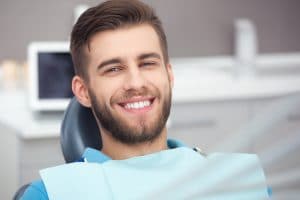 When was the last time you visited our team for a checkup and cleaning? Our doors have been closed to non-essential care for a while now, but we're finally getting ready to open our doors for checkups and cleanings. In today's blog, your Ankeny, IA, dentist talks about the benefits of an exam and dental cleaning.
The Exam with Digital X-Rays
The exam is a chance for our team to assess the current state of your oral health, and to also discover any developing areas of concern. Using digital x-rays, we obtain clear and detailed images of your teeth, gums, roots, jawbone and jaw joints, and oral structures. We then have the ability to identify areas of concern and offer treatment before complications can arise that cause further discomfort. For example, a checkup could allow us to pinpoint the earliest stages of a cavity or an infection, as well as gingivitis and gum disease. We watch for TMJ disorder and bruxism (teeth grinding) and also screen for oral cancer. We want to answer your questions and also help you gain a better understanding of your oral health, and what is needed to protect your smile.
The Dental Cleaning Process
During the same visit, we also use an ultrasonic scaling device and a manual tool to clean your teeth. Having your teeth cleaned means we remove all plaque and tartar buildup from the teeth. Doing so helps reduce the risk of cavities and gum disease, protecting your oral health. The same process also fights bad breath and brightens teeth as well! Once we remove the buildup, we complete the procedure by polishing your smile. When you leave, you do so with a brighter and healthier smile.
Better Homecare Habits
In between these visits, you can take steps to reduce the severity of plaque buildup and also safeguard the smile against common oral health issues. You should brush your teeth for two minutes twice a day, when you wake up and again before bed. You should also use a fluoride toothpaste when you do! Make time to floss each night before bed too, as this removes what a toothbrush alone cannot. If you have any questions about better homecare routines, or about our exams and cleanings, then contact our team today. We would love to help you maintain optimal oral health!
Do You Have Questions About Preventive Dental Care?
Our team wants to help you maintain optimal oral health with preventive dental care. To learn more about treating oral health concerns, then please schedule an appointment by calling Peddicord Family Dentistry in Ankeny, IA, today at (515) 963-3339. We also proudly serve patients of all ages who live in Bondurant, Polk City, and all surrounding communities.