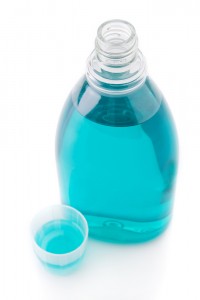 Did you know that mouthwash has multiple varieties? Most people don't know that even in their local drugstore, each mouthwash serves a different purpose. To explain the differing types of mouthwashes and their functions, your Ankeny, IA cosmetic dentist, Dr. Erika Peddicord provides this information.
Mouthwash Comes in Number of Varieties
Fluoride.

Act Restoring Enamel Rinse and similar products contain higher levels of sodium fluoride. The added amounts of fluoride help remineralize soft spots on the enamel and provide extra protection against tooth decay. Your

Ankeny, IA cosmetic dentist recommends paring these rinses with fluoride toothpaste to make your smile extra resilient to oral illness and diseases.
Cosmetic.

Listerine and Scope, alongside other similar products, serve more as cosmetic mouthwashes. Usually made with alcohol, these mouthwashes temporarily eliminate bad breath (or halitosis). While these do aid in the teeth cleaning process, these mouthwashes don't necessarily ward off the possibility of tooth decay.

Antiseptic.

An antiseptic mouthwashes is often recommended for patients who have more chronic bad breath. Most antiseptic mouthwashes contain chlorhexidine gluconate, which prevents the growth of oral bacteria. Moreover, patients who have oral infections can receive a prescription for certain antiseptic mouthwashes to eliminate the bacteria.

Natural. These mouthwashes don't contain any artificial ingredients, including colors or flavors. Furthermore, natural mouthwashes don't contain alcohol or fluoride. Some patients even like to make their own natural mouthwash from warm water, salt, and mint extract. This method works effectively and it's incredibly affordable.
Complete care.

Alongside removing bad breath and any lasting particles that brushing and flossing may have missed, complete care mouthwashes also reduce plaque build-up. Additionally, as with most mouthwashes, the complete care variety helps your mouth stave off gum disease.
Peddicord Family Dentistry Offers Oral Health Advice
For more information about teeth cleaning products like mouthwash, talk to your Ankeny, IA cosmetic dentist. Dr. Peddicord can provide the most effective teeth cleaning products to ensure your smile stays healthy and strong between visits. To schedule an appointment, call us at (515) 963-3339. Also, visit our website for patient forms, oral care tips, and to learn about our team. We happily serve new and existing patients in Bondurant, Polk City, Elkhart, Alleman, and Cambridge, and neighboring areas.