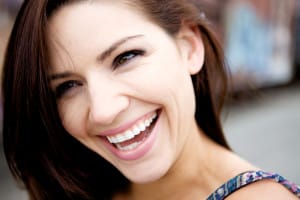 Did you chip a tooth? Perhaps your tooth displays a small crack that hasn't damaged its health but that you cannot stand to look at in the mirror. Are you someone whose teeth have small spaces between them, which causes you to wish your smile appeared more beautifully consistent? Fortunately, we can address these cosmetic concerns and more by improving your smile with dental bonding. Not sure what this treatment is but your mood has perked up now that hope is within reach? Learn more about how we may use bonding to help you achieve your personal smile goals.
About Bonding
Dental bonding is a cosmetic treatment that is often referred to as "additive." This is because rather than removing tissue to improve your tooth's appearance, which is what we do with contouring, we will add what looks like more tissue. This is possible with the use of a material called composite, which is made of synthetic acrylic resin. Fortunately, we can color-match the resin to match your tooth for a beautiful, undetectable application. We will put the composite over the target site and mold it to the desired shape. To set the material, we will use a special curing light and then polish the entire area for a natural finish.
How We Use Bonding
We may craft a particular shape, lay the composite flat, or use it to fill an open space. Bonding is often appropriate for the following:
Chips: We will replace the lost tooth tissue so your tooth looks whole again
Cracks: We will cover the problem area to camouflage your tooth, so it looks whole and flawless
Stains: We may camouflage stains by covering them with composite
Spaces: Do you have a space between your teeth? We may be able to fill it so it looks like your neighboring teeth touch one another – this may allow you to avoid braces
Short Teeth: Do a couple of your teeth look shorter than those surrounding them? We can extend the length of your tooth for a more even smile line.
ABOUT YOUR ANKENY DENTIST:
Dr. Peddicord offers a complete range of preventative, cosmetic, and restorative dental procedures as well as high quality dental prosthetics. Dr. Peddicord can answer your inquiries, and provide the services you need to maintain the health, beauty, and function of your teeth. To schedule an appointment at Peddicord Family Dentistry, please contact us at 515-963-3339. Our Ankeny, IA dentist's office proudly provides general and cosmetic dentistry services to patients from Bondurant, Polk City, Elkhart, Alleman, and Cambridge.