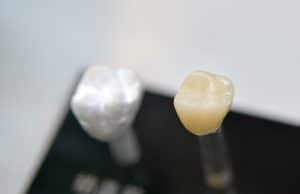 While a filling is a great way to address most cases of tooth decay, sometimes we find patients need a more substantial solution. With a dental crown, we can address more severe restorative issues, from infections to major cracks or chips. In today's blog, your Ankeny, IA, dentist explains how we create them, and what ensures your crown looks natural.
The Benefits of Placing a Restoration
A dental crown is a durable and long-lasting restoration that address multiple cosmetic and restorative issues with your smile. The restoration covers the entire visible portion of each tooth, everything above the gum line. When in place, we can treat advanced cases of tooth decay, and help put a halt to infection by capping the tooth following a root canal procedure. Placement has also helped repair cracked or chipped teeth, and provide length to teeth worn down as a result of untreated teeth grinding. We've also aided in the replacement of missing teeth, as crowns secure dental bridges and restore individual dental implants.
Lifelike Materials
When possible, we strive to ensure we use lifelike materials that allows the finished product to blend with your smile. For example, porcelain is often recommended for the front-facing teeth, as this material mimics the translucent nature of tooth enamel and we can shade it to blend with the rest of your smile. For the rear teeth, which must absorb and endure greater bite forces and pressure, we often use zirconia. This metal-free material is stronger than porcelain, and can be shaded as well. For some, we may even whiten your teeth prior to placement to ensure the finished product matches your brightest smile.
Placing Your New Restoration
Each one will be custom-made, so to ensure a proper fit we remove structure from the tooth and take a detailed impression. We also gather measurements, and use the information to begin designing a restoration. When the crown is complete, you will return to the office. We will check the fit and if necessary, make final adjustments prior to placing it with a powerful bonding agent. Now, with proper care and attention your crown could last for many years to come, possibly decades. Keeping them strong and stable means brushing and flossing daily, and making time to visit us for checkups and cleanings every six months. If you have any questions about how we repair and restore smiles, then contact our team today. We want to help you and your family enjoy optimal oral health!
Do You Need a Restorative Visit?
At Peddicord Family Dentistry, our team is ready to restore a tooth to optimal health, function, and beauty. Call Dr. Peddicord in our Ankeny, IA office at (515) 963-3339 to learn more whether your smile benefits from a custom-made restoration too.