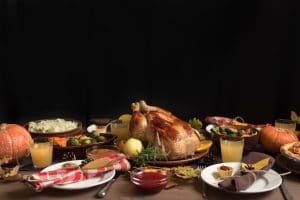 We may not be attending big family dinners next week, but we will still be enjoying our favorite Thanksgiving dishes. However, many of our sides and desserts contain ingredients like sugar and starch, which could lead to tooth decay. In today's blog, your Ankeny, IA, dentist is explaining what you can do to help safeguard your smile!
The Dangers of Sugar and Starch
What makes sugar and starch such harmful ingredients to your smile? Well, both are easily broken down by harmful oral bacteria, and tend to cling to the teeth or become trapped between them. As bacteria break down these ingredients, the levels of oral acidity in your smile rises, and the teeth also become coated in plaque, a bacterial byproduct linked to enamel erosion and cavities. Sugar is found in cranberry sauce, pies, cookies, and other sweets. Starch is a main part of mashed potatoes, yams, sweet potato dishes, biscuits, stuffing, and muffins.
Healthy Mealtime Habits
Moderation is very helpful; you can simply limit how many items high in sugar or starch you add to your plate. Drinking water is helpful too, as this helps cleanse your smile of stray particles. If you drink tap water, you also expose your teeth to fluoride, which strengthens the uttermost enamel layer. You also benefit from fresh fruits and veggies, as they not only contain essential vitamins, but certain ones, like carrots, broccoli, and apples, could help scrub away plaque and food particles. Finally, you can always excuse yourself to go floss after your meal!
Your Brushing and Flossing Routine
Even on holidays, you need to brush and floss your teeth. These actions help remove trapped food particles to limit the severity of plaque buildup and lower the risk of cavities. You should brush at least two times a day, once when getting up and again before going to sleep. A fluoride toothpaste is crucial, as is making sure you brush for at least two minutes each time. We also urge our patients to floss before bed too. Before the holiday season gets too hectic, consider giving us a call to set up a cleaning visit too, so we can remove all plaque and help you start 2021 with a healthier smile. You also have a chance to use any remaining 2020 dental insurance benefits!
COVID-19 Concerns
Remember to avoid large indoor gatherings, wear a mask when out and about, and wash your hands frequently! If you have any questions, then contact our team today.
Do You Have Questions About Avoiding Cavities?
At Peddicord Family Dentistry, our team is ready to help you and your family maintain strong and healthy smiles. Call Dr. Peddicord in our Ankeny, IA office at (515) 963-3339 to learn more about our preventive treatment options.