Step One: Determining Implant Candidacy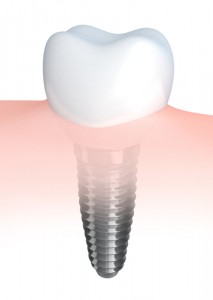 If you are interested in receiving a dental implant from your Ankeny IA dentist, Dr. Erika Peddicord, the first step is to determine whether or not you are a good candidate to receive a dental implant. Tooth loss can cause the jawbone to atrophy in the area of the lost tooth. The weakening of the jawbone occurs because one function of a tooth's root is to transmit bite force to the jaw in order to stimulate the bone cells. Without stimulation, the jawbone can lose density. Thus, when a tooth is lost, there is a risk that the jawbone will become unhealthy.
Unfortunately, if your jawbone has atrophied, it may not be able to support a dental implant, which relies on healthy bone tissue for its success. In order to examine the condition of your jawbone, Dr. Peddicord will take scans of your mouth. The information that she gleans from the scans will allow her to determine whether or not your jaw will support a dental implant. In cases where the jawbone will not support a dental implant, dental bone grafting may provide the bone tissue necessary to support one.
Step Two: Placing the Dental Implant
If Dr. Peddicord determines that you are a good candidate for a dental implant, she will refer you to an oral surgeon for the next step in the implant process. The oral surgeon will surgically insert the dental implant into your jawbone, where it will act like a tooth's root, providing stability to the prosthetic tooth that will be attached to it and transmitting bite force to the jawbone to stimulate bone cells.
Step Three: Attaching the Prosthetic
After your dental implant has been placed, you must allow a period of three to six months for healing. During this period the bone will fuse with the titanium post of the implant in a process called osseointegration. Because of its fusion with the jawbone, the dental implant will become a solid anchor for the prosthetic tooth that Dr. Peddicord will attach to it following osseointegration.
About Peddicord Family Dentistry: Dr. Erika Peddicord of Peddicord Family Dentistry received her Doctor of Dental Surgery degree from the University of Iowa College of Dentistry. Her enthusiasm for building lasting relationships with her patients and her dedication to oral health set her apart as an outstanding family dentist. Patients can schedule an appointment with Dr. Peddicord by calling (515) 963-3339.