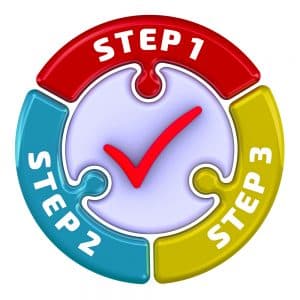 If you've been thinking long and hard about your stained smile and you're oh so ready for it to look whiter, it's time to talk with us about teeth whitening solutions. In some cases, you might require traditional whitening for allover improvement. In others, it might be time for a different solution (did you know there were other options? There are!). As for how to move from the "I've been dreaming about it" stage to "I'm about to achieve a much whiter smile" stage, we've got a few steps for you to follow.
Step 1: Schedule A Consultation
When you want to achieve a whiter smile, the first thing you should do is call us to schedule time to come in, talk with us, learn about treatments, learn about candidacy, and more! Set up a consultation, so you can do just that. Hint: Do yourself a favor and come to us right away instead of investigating over-the-counter or do-it-yourself options. They will not offer the benefits you want but they can most definitely guide you toward a damaged smile.
Step 2: Select The Treatment For You
After we discuss your options for teeth whitening, you will have time to think them over and decide which one works for you. Whether you qualify for and want whitening or you decide that bonding or veneers is what you should select, we are happy to help you figure out your final decision.
Step 3: Schedule Your Visit
You know what will work best for you and you have figured out which treatment you want for a whiter smile. Now, all that is left is scheduling the actual treatment. So, give us a call, set it up, receive the treatment, and walk away with sparkling teeth.
Whiten Your Smile With Our Treatments
Come into our practice to receive the cosmetic care you need, so you feel wonderful about your dazzling smile. Find out if you're making good choices by scheduling a visit with your Ankeny, IA dentist today! Contact Peddicord Family Dentistry to set up an appointment by calling 515-963-3339.