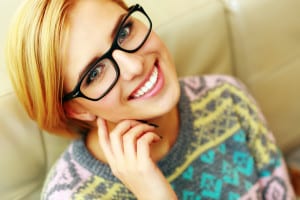 Ever thought about making over your smile? Have you ever felt like a smile transformation would be wonderful but you worry that you simply suffer from too many esthetic imperfections to achieve an improved grin? Fortunately, for patients who desire a truly dramatic improvement, we offer porcelain veneers. So, before you assume your list of changes for your smile is too long, learn more about all that veneers have to offer.
Understanding Veneers
A porcelain veneer is not like a crown – it only covers the part of your tooth that shows when you smile or speak, rather than the entire tooth. The veneer itself is a super-thin ceramic shell crafted out of surprisingly thin layers of porcelain. Because porcelain is translucent and mimics the appearance of your own multi-layered teeth, your smile will continue to look natural after placement.
About Planning and Placement
You may think that transforming your smile will take a very long time. Fortunately, we can plan and place your porcelain veneers within as few as two visits. First, we will need to meet with you to discuss the changes you would like to see in your future smile. We will take impressions of your teeth and send them to a lab where a master ceramicist will create your veneers. Then, you will see us again, so we can make adjustments and then permanently bond the veneers to your teeth.
Benefits, Benefits, and More Benefits
Unlike many cosmetic treatments, veneers do not simply address one type of smile imperfection. Instead, they offer an exceptional variety of improvements, including the following:
We will customize the color of the veneers for a whiter smile
We can customize the shape, size, and length of the veneers, so your teeth blend more harmoniously with your features
Veneers can fill spaces between teeth for a smile that looks more aligned and uniform
Porcelain veneers camouflage problems like stains, discoloration, minor chips, and cracks
ABOUT YOUR ANKENY DENTIST:
Dr. Peddicord offers a complete range of preventative, cosmetic, and restorative dental procedures as well as high quality dental prosthetics. Dr. Peddicord can answer your inquiries, and provide the services you need to maintain the health, beauty, and function of your teeth. To schedule an appointment at Peddicord Family Dentistry, please contact us at 515-963-3339. Our Ankeny, IA dentist's office proudly provides general and cosmetic dentistry services to patients from Bondurant, Polk City, Elkhart, Alleman, and Cambridge.