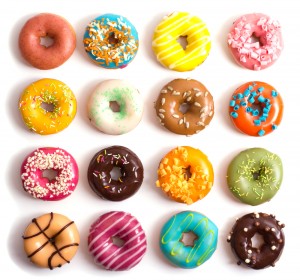 Very few people are under the illusion that junk food is good for them. It's called "junk" food for a reason. Unfortunately, many people underestimate the damage that frequent consumption of junk food can do to your heart and your smile (not to mention your waistline). Today, we're taking an up-close look at how sugar-laden junk food harms your oral health and how compromised oral health can actually exacerbate junk food's effect of your heart health.
Not So Sweet Surprises in Your Food
Sure, you know that donuts, cupcakes, and soda pop qualify as junk food. While you enjoy them occasionally, you probably don't eat them or feed them to your family every day. Unfortunately, a great many foods that seem healthy contain enough sugar (and salt and fat) to qualify as junk food. Consider that these healthier-seeming options actually have more sugar than a Krispy Kreme glazed donut (10 grams):
Subway 6″ Sweet Onion Teriyaki chicken sandwich (17 grams)
8 oz. cup of Yoplait fruit yogurt (27 grams)
Turkey, American cheese, and crackers Lunchable (36 grams)
Odwalla Superfood Smoothie (50 grams)
The American Heart Association recommends that adults eat no more that 22-32 grams of added sugar per day, yet many of us regularly exceed that limit without even knowing it. You might snag one of your daughter's Lunchables and a cup of strawberry yogurt for a quick lunch and end up consuming two to three times the recommended daily amount of added sugar.
Sugar, Your Smile, and Your Heart
Excessive intake of sugary foods can negatively impact your oral health in two distinct ways. You probably know that sugar can lead to tooth decay, but you may not have known that consuming large amounts of sugar can also lead to gum disease, an inflammatory disorder that affects the gums, alveolar bone, and connective tissue. Current research strongly suggests that severe, untreated gum disease can prompt atherosclerosis, the hardening of the arteries, a major risk factor for heart disease and heart attack.
The best action you can take to maintain a healthy smile and a healthy heart is to read the nutrition labels on every packaged food you buy. Be aware of exactly how much sugar you consume in a day, and take steps to reduce your sugar intake. Substituting whole foods like fruits and vegetables and preparing your own meals (rather than buying pre-packaged meals) will cut the sugar and save you money.
About Peddicord Family Dentistry
Dr. Erika Peddicord earned her DDS degree from the University of Iowa College of Dentistry and opened Peddicord Family Dental in 2009. Her enthusiasm for building lasting relationships with her patients and her dedication to oral health set her apart as an outstanding family and cosmetic dentist. New and returning patients can schedule an appointment or consultation with Dr. Peddicord at our Ankeny, IA dentist's office by calling (515) 963-3339. We proudly serve patients and families in Bondurant, Polk City, Elkhart, Alleman, and Cambridge.