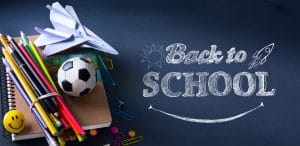 Yes, we know: It's only July. So, why are we already bringing up mention of back to school? Well, because we know that time flies, you suddenly wake up a week before school is back in session realizing you never got around to planning out your child's smile care, and here you are with a long list of things to accomplish (and an even longer list of supplies to buy). What to do? As far as we are concerned, the answer lies with scheduling dental care right now in Ankeny, IA, so you're ready to go and can check this very important detail off the list.
Call Us Very Soon
We encourage you to call us very soon if you've just realized it's time to get a move on with plans for your child's dental care as part of your long-term back-to-school efforts! As mentioned, school seems far off but it's also just around the corner. Remember that like you, there are lots of other moms and dads out there who are thinking to themselves that it's probably time to set up a checkup, cleaning, etc. before that first bell rings. So, we suggest you contact us sooner than later to secure your date and time for a visit.
Take Care Of Cavities Before School Starts
Another important detail for back to school regarding dental care is the topic of fixing problems. Is your child in need of a filling for a cavity? For something else? Something that can really make your child feel extra uncomfortable on the first day of a school year is a toothache or other irritation. We often suggest taking care of such details early, so your child can simply enjoy that first week (and semester) back without pain, discomfort, distraction (and so you don't have to try to fit a restorative visit into an otherwise packed schedule).
Get Back On Track With Prevention
Whether it's time for your child's next planned dental care visit or if you've gotten a little too relaxed about prevention, now is a good time to let us know you're ready to see us. Come in, keep that preventive schedule going, and your child will enjoy a school year without joining the "I just developed tooth decay club." Picture day will be all about showing off a healthy smile!
Get Back To School Ready With A Visit
Get your kids' smiles all ready for a brand new school year by coming in for essential care! Find out if you're making good choices by scheduling a visit with your Ankeny, IA dentist today! Contact Peddicord Family Dentistry to set up an appointment by calling 515-963-3339.