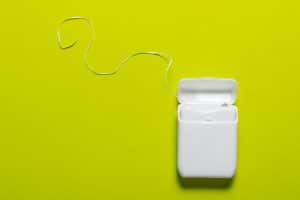 When you know just what you're doing with your dental hygiene and you've mastered both the art of brushing and flossing your smile, you know that you've got this part of your dental hygiene locked in for providing you with optimal smile cleansing at home! However, when you realize that your brushing is on point but your flossing could really use some help, the next thing to do is to make improvements, so you're not putting your smile in harm's way. What's going wrong and how can you fix these issues, you wonder? Of course, our Ankeny, IA team would love nothing more than to help!
Flossing Hurts
If your flossing hurts, this isn't going to allow you to enjoy daily, successful dental hygiene that promotes a healthy smile. Instead, you will probably end up avoiding it! Here's what's going on and what you can do:
You may have gingivitis or another issue, such as decay, that is causing flossing to hurt. Contact our team for a checkup, so we may help.
You may be going too fast, pressing too hard, etc. Try to slow down and floss gently to see if this helps. Need a demo? Just ask for one.
Flossing Makes Fingertips Numb!
If every time you floss, your fingertips get tingly or feel numb, this is a major deterrent. The problem is that you're winding your floss too tightly during dental hygiene. We remind you that an easy way to avoid this is to gently wrap the floss around your index or middle finger. Then, use either your index or middle finger (whichever is free) and your thumb to grip the floss and direct it throughout your smile.
You Keep Dropping Your Floss
Well, you can't exactly practice your best dental hygiene and protect yourself against gingivitis and cavities if you cannot hold onto your floss long enough to use it throughout your smile! Not to worry: Things will be just fine, when you recognize that you may be missing out on one little detail. You need to use enough floss! It might be more than you are expecting, so brace yourself: Use about a foot and a half, beginning on one end and working your way to the other. This will solve the issue!
See Us For All Of Your Hygiene Questions
Let us know when you have dental hygiene questions, so instead of feeling frustrated or missing out on essential care, you have the answers and the solutions you require in order to practice excellent smile protection. Find out if you're making good choices by scheduling a visit with your Ankeny, IA dentist today! Contact Peddicord Family Dentistry to set up an appointment by calling 515-963-3339.