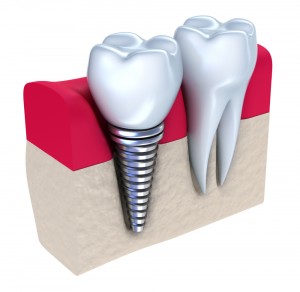 For many who have suffered tooth loss, whether as a result of gum disease or dental trauma, dentures loom as the inevitable, and seemingly only, solution. But at Peddicord family dentistry we offer the alternative of dental implants for those who have suffered tooth loss. Using the latest technology in bone integration, dental implants from your Ankeny dentist are long-lasting replacements for missing teeth, and excellent alternatives to dentures.
Placing Dental Implants
A surgical procedure is required to place a dental implant. In the surgery, a small titanium post is introduced into the jawbone and then secured in place as the bone is allowed to heal around it, in a process call osseointegration. Similar to titanium rods that are used to stabilize broken bones in other parts of the body, the new titanium tooth root becomes a permanent part of the jawbone. After fusion to the bone has been completed, the titanium rod is topped with an abutement, another metal fitting which is designed to accommodate the final tooth prosthesis that will be visible above the gum line and used to fully replace missing teeth.
Am I a Good Candidate for Dental Implants?
Because dental implants involve a surgical procedure, an unhealthy heart, or conditions that affect healing ability could disqualify some people from receiving implants. Having a jawbone of insufficient size or quality can also make you a poor candidate for dental implants. Because of the complexity of the procedure, and the length of the healing process, acquiring dental implants will require a number of visits to Dr. Erika Peddicord over a period of several months.
Schedule Your Consultation Today
Peddicord Family dentistry offers dental implant surgery in addition to fitting the final dental prosthesis. Schedule an appointment with your Ankeny dental office today by calling Peddicord Family Dentistry at 515-964-1490. We serve patients from Ankeny, Cambridge, Sheldall, Maxwell, Collins, and surrounding neighborhoods.