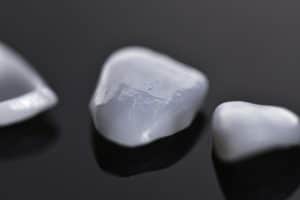 If you need major changes to your smile's appearance, that doesn't necessarily mean you must endure several visits and multiple procedures. Instead, your Ankeny, IA, dentist may use one or more custom-made restorations known as porcelain veneers to transform the beauty of your smile! In today's blog, we're looking at the benefits of our custom veneers.
Veneers vs. Bonding
While dental bonding is a very attractive and effective method of correcting multiple cosmetic issues, porcelain veneers are designed to address a wider number of esthetic concerns, and offer greater stability. While bonding is made from a composite resin, we create veneers using porcelain, the same material often used in crowns and partial crowns (inlays and onlays). The material is translucent like tooth enamel, and we shade it to better blend with your smile. Porcelain also has the ability to absorb daily bite forces, too.
Cosmetic Benefits
When we place a cosmetic restoration, we have the opportunity to repair minor cracks and chips, and also lengthen the teeth worn down by teeth grinding. We also help close embarrassing gaps between your teeth, and also mask permanent teeth stains, the kind that form beneath the enamel and may not respond with teeth whitening. Our team also corrects the appearance of minor misalignment, offering an alternative to braces for some patients. Creating and placing them takes two visits, the first to remove enamel and take detailed impressions, the second to place the restorations with a powerful bonding agent and complete the process.
Preserving Your New Smile
The teeth we've attached them to will still be vulnerable to tooth decay and gum disease, so daily care is crucial for not only keeping your restorations bright, but for ensuring they have the opportunity to last for decades to come. You should brush your teeth twice a day for two minutes with a fluoride toothpaste, and floss up and down each side of every tooth before going to bed at night. Seeing us every six months is helpful too, as we can monitor your smile and remove all plaque buildup to help prevent serious oral health concerns from developing. If you have any questions about treating poor oral health or transforming your smile with custom-made and lifelike restorations, then contact our team today. We want to help you obtain a stunning new smile with our custom porcelain veneers!
Do You Have Questions About Cosmetic Restorations?
Our team is ready to help you enjoy a beautiful smile with our custom cosmetic treatments. To learn more about our custom cosmetic restorations, then please schedule an appointment by calling Peddicord Family Dentistry in Ankeny, IA, today at (515) 963-3339. We also proudly serve patients of all ages who live in Bondurant, Polk City, and all surrounding communities.