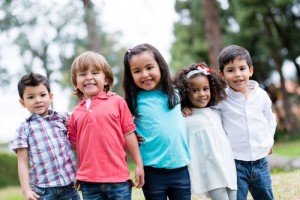 Like you, your children need dental care to maintain a beautiful and healthy smile. Parents have a lot of questions about their children's dental care. When should my child see the dentist? How often do kids need to visit the dentist? At Peddicord Family Dentistry, we offer the latest in quality children's dentistry and work hard to foster a welcoming environment for little smiles.
Frequently Asked Questions About Children's Dentistry
Question: When should my child have his/her first appointment?
Answer: The first appointment should occur shortly after the arrival of the first baby tooth. Once the child reaches the age of three, a routine checkup should be schedule for once every six months.
Question: What will happen during the initial visit?
Answer: The first visit typically involves little or no treatment. Instead, the dentist takes the opportunity to exam the baby teeth to make sure they are erupting correctly. Once your child begins attending regular visits later on, we will watch for the warning signs of dental health problems, including tooth decay, gingivitis, and misalignment. Routine visits also help instill good dental habits and can actually reduce dental anxiety in children.
Question: What are dental sealants?
Answer: Dental sealants are a preventive treatment that can help safeguard teeth against tooth decay. The molars are often difficult for children to reach and brush/floss properly, so food can become trapped between them and broken down by harmful bacteria. To avoid cavities, we can place a plastic covering over the teeth. The sealants will wear away naturally with time.
Question: Do kids need to brush and floss everyday?
Answer: Yes. Just like adults, children need to brush their teeth twice a day and floss at least once.
ABOUT YOUR ANKENY DENTIST
Dr. Peddicord offers a complete range of preventative, cosmetic, and restorative dental procedures as well as high quality dental prosthetics. Dr. Peddicord can answer your inquiries, and provide the services you need to maintain the health, beauty, and function of your teeth. To schedule an appointment at Peddicord Family Dentistry, please contact us at 515-963-3339. Our Ankeny, IA dentist's office proudly provides general and cosmetic dentistry services to patients from Bondurant, Polk City, Elkhart, Alleman, and Cambridge.