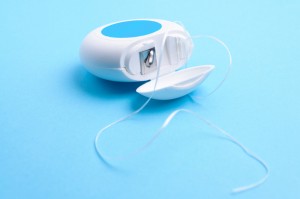 Any dentist will advise his or her patients to floss at least once a day. Flossing is an important step in any dental cleaning regimen since it removes food particles that brushing cannot. Yet, that mighty nylon string doesn't just clean between teeth—you can use it for simple at-home tasks too. In this friendly post, Dr. Erika Peddicord, your Ankeny, IA general dentist, offers some uses for dental floss that go beyond oral care.
Look at What Floss Can Do
Hang pictures.

If you're hanging a small object that needs a wire for support, use floss instead. This includes: pictures, Christmas decorations, and even wind chimes.

Sew.

Do you have a button that keeps coming undone? For the next repair, use floss rather than thread. Floss is made from a sturdier material, plus you can use it on other linen-like fabrics, such as beach and laundry bags.

Cut to perfection.

Unflavored floss can work better than a knife when cutting soft foods. You can easily slice cakes, fruits, soft cheeses, and hard-boiled eggs with floss. Simply wrap a sufficient length around one finger on each hand and use as needed.

Cookie spatula.

Don't risk ruining your freshly baked cookies by using spatula. Take a piece of floss and slide it beneath the cookies for an easy, crumble-free solution.

Secure your packages.

When mailing packages, your

Ankeny, IA general dentist

suggests swapping twine for dental floss. The nylon serves as a secure alternative.

Makeshift clothesline.

If you're ever in need of clothesline, dental floss can help you. Just tie the two ends to a desired area and hang your clothes out to dry. For more strength, you can add extra layers of floss.
Visit Peddicord Family Dentistry for Bi-annual Cleanings
If you're looking for exceptional preventative dental care, visit your Ankeny, IA general dentist. Dr. Peddicord can provide you and your family with variety of dental services to ensure your smiles stay healthy and strong. To schedule an appointment, call us at (515) 963-3339. Also, visit our website for patient forms, oral care tips, and to learn about our team. We happily serve new and existing patients in Bondurant, Polk City, Elkhart, Alleman, and Cambridge, and neighboring areas.