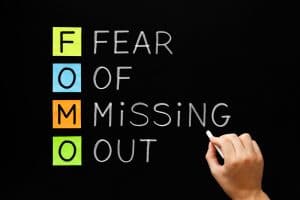 There are so many abbreviations these days that it can be hard to keep up with them! If you have not yet heard of FOMO, now is the time to get on board and understand this abbreviation. It stands for "fear of missing out." Think about what that might mean! For instance, do you ever worry that if you don't attend a party that a lot of your friends are attending, you will miss out on something amazing? Are you concerned that you're dedicating a lot of time to one aspect of your life and that you'll miss out on another? We encourage you to apply the idea of FOMO to your dental care, so you can make necessary changes that will let you participate in things you may be avoiding!
Taking Selfies Or Group Shots
Are you usually standing off to the side when your friends and family members excitedly take photos together? Do you think about posting selfies on social media, so you can join in the fun, but you cannot bear to take one of yourself? Don't worry! You don't have to go on dealing with FOMO for the rest of your life! Instead, we simply suggest you come in to receive the dental care you need from us in the form of cosmetic improvements. Ready for whitening or some other change? We can get your smile looking much better in no time!
Attending Parties
One of the most popular times for patients to come in for the dental care they need because they feel embarrassed by their smiles? During holiday time! Do you know why? Well, because these are the times of year when parties are in full swing, people realize they're about to attend them but haven't done anything to make their smiles look better, and they call us right up! If you are ready to make your smile party-ready so you can stop turning down invitations, we invite you to do so! Call us today to schedule a checkup and we can go from there.
One-On-One Encounters
Are you feeling so unhappy with your smile that you won't even meet up with friends for coffee (or are you itching to say "yes" when you're asked out on dates but you just can't do it)? We get it. Your smile is a prominent feature! Remember, whether you want a full makeover with veneers or if you are simply ready to feel better about your breath and your oral health, call us: We offer the comprehensive listing of dental care services your smile needs!
Access The Smile Care You Want
Don't ignore the smile care that you want for yourself, so that you can feel amazing about your smile. Instead, let us know what you need, whatever that may be, so you can feel truly content with your appearance. Find out if you're making good choices by scheduling a visit with your Ankeny, IA dentist today! Contact Peddicord Family Dentistry to set up an appointment by calling 515-963-3339.