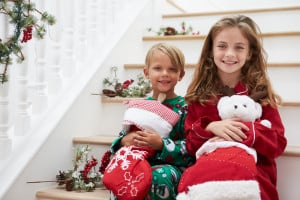 If your kids have been very good this year, then Santa Claus is likely already busy processing their big orders. But whether that includes a bike, a teddy bear, or a more high-tech gadget under this year's tree, you're likely still on the line to fill their stockings that have been hung with care. If so, don't opt for traditional chocolates and candies as fillers. Those will likely lead to dental problems down the road, like cavities. Instead, choose more smile-friendly items that your kids will still be delighted to open on Christmas morning, but that won't leave them disappointed at their next pediatric dental checkup.
What Do Kids Really Want This Year?
Any children receiving electronics for Christmas will be happy to get a few extra accessories, like a new phone case, a tablet cover, or a set of travel headphones. All can be found inexpensively this time of year, often without a trip to the electronics store. Gift cards for new e-books or songs would also be easy to slip into a stocking!
Coloring books have become extremely popular this year, for kids, teens and adults alike, thanks to more advanced patterns and books featuring beloved book and movie characters. If you've gifted the kids with special books, be sure to fill their stockings with plenty of crayons, map colors or markers to create their next masterpiece. In fact, art supplies tend to be popular with boys and girls of all ages.
You can finish filling the stocking with simple items, like socks or travel-sized toiletries, both of which are practical, but can still be fun. Try socks with fun designs that highlight each kid's unique personality, and toiletries designed for children, which should have fun scents but no harsh chemicals.
Add to the mix some great dental hygiene items, like a new toothbrush and floss, too. You can even find toothpastes in funky flavors, from bubblegum and fruit punch to bacon. Just look for varieties that have the America Dental Association's seal of approval!