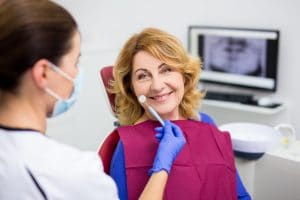 It is estimated that approximately 178 million Americans are missing at least one tooth, according to the American College of Prosthodontists. This is a cause of embarrassment for some people. However, your smile consists of more than just your visible teeth. It includes their roots that offer support when you bite or chew. Your jawbone is stimulated by these roots, which help with the flow of nutrients to the bone and teeth. If you lose a tooth, though, the root loss can have an adverse effect on your jawbone's health, and your overall health. Our Ankeny, IA, dental team is here to help with dental implant restoration. By replacing lost teeth roots, we can restore your ability to bite and chew properly and to ensure you have a healthy and strong jawbone and facial structure.
Which Implant Restoration Type is Right for Me?
There are two types of implants. Based on your needs, we can help determine which one is right for you.
• Endosteal – This is the most common type of dental implant restoration. The implants are usually made of titanium, because it naturally fuses with bone, and they look like small screws. They are placed in the jawbone.
• Subperiosteal – This implant is for people who do not have enough healthy natural jawbone. The implants are placed on or above the jawbone under the gum.
It all starts with a consultation appointment, where we discuss your lifestyle, your health and cosmetic goals, and more. A 3D radiograph is used to determine if there is enough healthy bone to hold the implants.
Dental Implant Restoration is One of the Safest Procedures in Dentistry
If crowns are artificial teeth, then you can imagine dental implants as artificial teeth roots. These roots bond with bone and create a sturdy base for crowns. The process starts with a consultation to determine which type of implant you will need. The whole dental implant restoration is usually broken into two surgeries, the first of which is when the implant is placed. Over the next few months, the implant and bone fuse together, which is called osseointegration. Once osseointegration is complete, it is time to attach the abutment to the implant and then finally the placement of the crown itself.
Contact Us to See if You Can Benefit from Dental Implant Restoration
Dental implant restoration can help improve your ability to bite and chew and help you maintain a healthy smile and jawbone. To learn more, schedule an appointment by calling Peddicord Family Dentistry in Ankeny, IA, today at (515) 963-3339. We proudly serve patients of all ages who live in Bondurant, Polk City, Elkhart, Alleman, Cambridge, and all surrounding communities.