Mouthwash can be a fast and convenient way to freshen your breath and kill harmful bacteria without actually brushing your teeth. However, according to a new Swedish study, using a powerful antiseptic twice a day may not be good for your heart health. Today your Ankeny, IA, family dentist, Dr. Ericka Peddicord, discusses mouthwash.
Mouthwash
No doubt mouthwash is a staple in every home and it certainly touts some benefits. For instance, fluoride mouthwashes help reduce cavities, antibacterial mouthwashes can help prevent gum disease, the antiseptic properties of mouthwash can help soothe canker sores, and one study shows that pregnant mothers who use mouthwash are more likely to carry their babies to full term. It seems over-the-counter mouthwashes can be beneficial. However, overly potent mouthwashes may cause harm.
The Study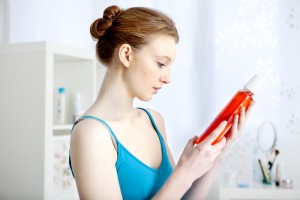 A small Swedish study monitored the blood pressure of 19 otherwise healthy people as they rinsed with a chlorhexidine mouthwash twice a day for a week.  It was found that within hours of rinsing with the mouthwash, the blood pressure of the subjects increased 2 to 3.5 units.  Because minute rises in blood pressure can have a significant health impact, such a rise as this can increase the risk of heart disease by 7 percent and stroke by 10 percent. Apparently, the problem lies in the fact that the antiseptic does not distinguish between good oral bacteria and harmful oral bacteria. Certain microbes are needed for the production of nitrite which helps blood vessels dilate. While the mouthwash caused nitrite production to fall by over 90 percent in the oral cavity, it was decreased by only 25 percent in the blood.
In the United States, chlorhexidine mouthwashes are usually prescribed by dentists for patients with severe oral health issues. Not all mouthwashes contain chlorhexidine, and over-the-counter mouthwashes tend to be less potent.
About Your Ankeny Dentist
Dr. Peddicord offers a complete range of preventative, cosmetic, and restorative dental procedures as well as high quality dental prosthetics. Dr. Peddicord can answer your inquiries, and provide the services you need to maintain the health, beauty, and function of your teeth. To schedule an appointment with Dr. Erika Peddicord, please contact us at 515-963-3339. Our Ankeny, IA, office proudly provides general and cosmetic dentistry services to patients from Bondurant, Polk City, Elkhart, Alleman, and Cambridge.