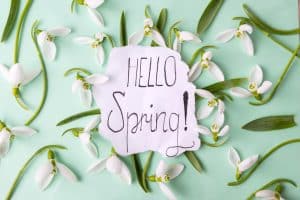 Now that it's spring, what types of plans do you have for your smile? If you answered, "Well, none…" then we have some helpful suggestions that might help you get the ball rolling. Did you realize it may be time for your preventive care with us? Is there something you've been hoping to accomplish with your oral health but you haven't gotten around to it yet? Don't wait another second!
Does It Need A Cleaning?
When is the last time we saw you sitting in our dental chair for your cleaning and checkup? If it's been longer than six months, you're overdue! If it's about time but you don't have your visit scheduled, the time is now! Give us a call and let us see those teeth and gums and provide you with your twice-annual cleaning. Just think of it as spring cleaning for your oral health!
Does It Need Cosmetic Care?
Are you prepping for spring parties, weddings, and more and wish you had a better looking smile to present when you see friends and family for these outings? No worries. Come talk with us during a cosmetic consultation, so we can get your prettier smile underway just in time for this very social season.
Does It Need To Prep For Summer Travel?
If you're planning on traveling any time soon, it's always best to head out with a fresh clean bill of smile health. To ensure your oral health is ready to go, why not come in for a checkup (that gives you enough time to take care of any restorative treatments you might need)? You'll feel relieved and ready to get out there and enjoy some rest and relaxation.
See Us Consistently For A Vibrant Smile
Come in for your checkups and other needs, so your smile remains vibrant and healthy. Find out if you're making good choices by scheduling a visit with your Ankeny, IA dentist today! Contact Peddicord Family Dentistry to set up an appointment by calling 515-963-3339.