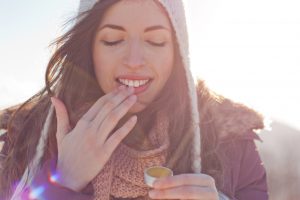 Men and women, young and not-so-young, you will be surprised by how helpful this tip might prove to be for you this winter! We suggest that you find a lip balm you like and use it frequently to protect your lip health. Why is this suddenly such a major matter at the moment? When might you be over-the-moon to realize you've got a lip protectant nearby? Well, we just happen to have some very compelling examples!
#1: If You Wear An Oral Device
Whether you wear dentures or partial dentures or you use an oral appliance for bruxism, you know that the process of removing the device from your mouth can be just a bit messy. You remove it, you clean saliva off of your lips, you replace it, and you do the same later in the day. When it's cold and dry out, this can lead to some dryness for your lip tissues. Protect it with lip balm throughout the day, so your lip health remains in great shape.
#2: If You're Congested
Now is the time: It's cold and flu season! We like to pretend it doesn't exist but alas, it can affect just about anyone. You'll want to keep lip balm around in case you find that you're congested. When you can't breathe through your nose, you mouth breathe. The result is often chapped lips (and dry mouth) on top of everything else! Hydrate and protect lip health with lip balm. Drink water and treat your illness to keep oral tissues moist. Of course, if you need to, see your general practitioner, too!
Protect Your Lip Health This Winter
Keep lips moist and comfortable through the winter months with our tips! Find out if you're making good choices by scheduling a visit with your Ankeny, IA dentist today! Contact Peddicord Family Dentistry to set up an appointment by calling 515-963-3339.