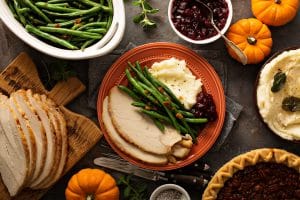 There are the foods you know without a single moment of hesitation that you shouldn't be loading onto your plate because they can lead to problems for your oral health, from the promotion of cavity development to the breakage of your teeth. Then, of course, there's everything else. You think you know what's best to pile high in multiple servings for your holiday feast but you want to be sure you're not accidentally putting your teeth, gums, etc. in the path of harm! Fortunately, when you stick to the standard favorites, you're usually in good shape! For a quick rundown of items to consume without worry, our Ankeny, IA team is here to help!
Turkey And Other Proteins!
One type of food you may certainly load onto your plate is protein. While turkey is the main feature of most Thanksgiving spreads, remember that anything else, such as chicken, ham, etc., is also a good bet for your oral health. Why is that, you ask? Well, because your smile needs protein to remain strong. In addition, protein is of little interest to the bad bacteria in your smile, which instead feed primarily on carbohydrates (which then promotes tooth decay). So, go ahead. Dig in!
The Bright Orange Stuff
Remember that Thanksgiving is known in part for the bright orange foods that are on the table! This may include pumpkin dishes like roasted pumpkin or soup. Certain squashes. Sweet potatoes! In their natural form (as in, without being loaded up with whipped cream or marshmallows), these foods are packed full of good-for-you nutrients, such as beta carotene. This is very important for strong gums and teeth, so eat up!
Veggies
Green beans, anyone? As you likely know, green veggies are fantastic for your smile in that they do not encourage decay but they are full of vitamins are minerals that support overall and oral health.
Pumpkin Pie!
Well, okay. It's not entirely good for your oral health and you won't necessarily want to pile it onto your plate. However, if you're looking for a sweet treat to round out your otherwise delicious feast for Thanksgiving, we suggest this one as a decent contender! Here are some things to remember:
It is full of sugar, so remember to rinse with water afterward
It's best to eat your pie not long after you're through with dinner (or with dinner)! Since you're already salivating from eating, it helps to cleanse your smile as you indulge
Hint: Pumpkin pie contains calcium, vitamin C, magnesium, and more!
Make Thanksgiving Easy On Your Smile
Learn all about how to feel confident walking into your Thanksgiving feast this year, as it applies to your smile, so you know how to make wise choices! Protect your oral health with some very simple suggestions. Find out if you're making good choices by scheduling a visit with your Ankeny, IA dentist today! Contact Peddicord Family Dentistry to set up an appointment by calling 515-963-3339.