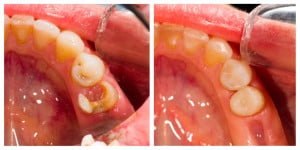 The most common dental filling since the 1800s has been silver amalgam. Silver amalgam fillings are a mixture of silver, tin, copper, and mercury. Amalgam fillings contain about 50 percent mercury. It is the mercury that holds them together. Because there have been concerns over the years as to the safety of mercury, composite fillings were developed. Composite fillings are not only environmentally friendly, they are more esthetic, and eliminate health concerns. At Peddicord Family Dental we offer composite resin fillings, the white dental filling.
What is Composite Resin?
Composite resin filling material is a plastic-like material mixed with powdered glass. It is white and resembles the color of a natural tooth. Composite can be used for fillings, inlays, onlays, or for cosmetic bonding (changing the shape or color of a tooth, fixing cracks, chips, and broken teeth).  Because composite fillings are nearly identical to the color of a natural tooth, they are the treatment of choice for front teeth. At one time this filling material was too weak to use on back teeth, but over the years improvements have made it strong enough to use anywhere in the oral cavity.
Advantages
Not only does using composite resin eliminate the worry regarding mercury, it is esthetically pleasing, and more:
Less tooth removal is required when placing a composite filling.
Composite fillings are bonded to the tooth which increases the strength of the tooth structure.
Composite fillings do not expand and contract like metal fillings do.
Placing a Composite Filling
Placing a composite filling is no different than placing a silver amalgam filling. The tooth decay will be removed and the area cleaned. The surface of the tooth will be prepared. A bonding agent is placed, and then the composite resin filling is placed.
ABOUT YOUR ANKENY, IA DENTIST:
Dr. Peddicord offers a complete range of preventative, cosmetic, and restorative dental procedures as well as high quality dental prosthetics. Dr. Peddicord can answer your inquiries, and provide the services you need to maintain the health, beauty, and function of your teeth. To schedule an appointment at Peddicord Family Dentistry, please contact us at 515-963-3339. Our Ankeny, IA dentist's office proudly provides general and cosmetic dentistry services to patients from Bondurant, Polk City, Elkhart, Alleman, and Cambridge.