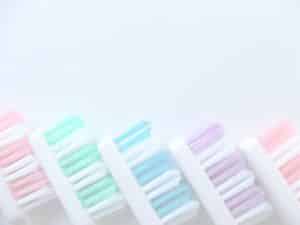 Did you know that if you're using the correct toothbrush, you're doing your oral health some serious favors? How about if you're not using the best toothbrush for your smile? Did you know that not only can it limit your ability to perform effective dental hygiene but it can even damage your teeth and gums? Before you worry that there's some mystery to making wise choices, we encourage you to try our quiz. You'll soon discover that just a few simple guidelines ensure your choice is on target.
Quiz Questions: True or False?
True or False: It's best to try out different brush bristle firmness to see which one is most comfortable for your dental hygiene.
True or False: The longest you should go with using one toothbrush before tossing it in the waste basket and starting fresh is about one month.
True or False: To make sure the brush you choose is going to offer effective care for good oral health, just check to see if it's been approved by the American Dental Association.
Quiz Answers
False. It's best to only select brushes with soft bristles. It's the most comfortable option and it's the only way to make sure you're getting your teeth and gums clean without causing any irritation or damage.
False. You're good to go for about three months to four months. Any longer than that and you're not providing your oral health with optimal cleaning.
True. Acceptance from the ADA means you're on the right path for a healthy smile.
Find Out If You're Using The Right Products
Using the right toothbrush, floss, and toothpaste can have a very positive impact on your oral health. Find out if you're making good choices by scheduling a visit with your Ankeny, IA dentist today! Contact Peddicord Family Dentistry to set up an appointment by calling 515-963-3339.