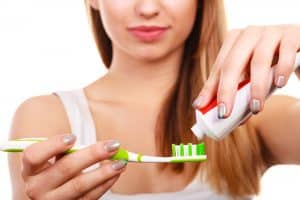 No, we don't literally mean get as much toothpaste to come out of your tube as you can (though there are toothpaste squeezer accessories that can help you accomplish this). What we mean is: Make sure you're using toothpaste for your dental hygiene that yields the greatest amount of benefits in as many ways as possible. Ensure you're making wonderful choices! "But how do I figure out how to do this?" you might wonder to yourself. Well, with our help, of course!
Don't Waste The Paste
The best way to get the most out of your toothpaste tube is to be careful about how much you're using. If you feel like you're buying a new one every week, you're probably just using a lot more than is necessary. Do you need to use a long strip of paste, you ask? Nope. Effective dental hygiene requires only the following: A pea-size measurement.
Don't Fall Into The Fluoride-Free Trap
Ignore the naysayers. Your dental hygiene requires fluoride, so choose paste that contains it each and every time.
Do Say "Yes" To ADA Acceptance
You'll know the toothpaste will be worth your while if the American Dental Association (ADA) has tested and approved it. Look for a stamp of approval on the box.
Don't Reach For Shiny Items
Don't look for the most attractive packaging at the store and toss that dental hygiene product into your cart. Just because it seems fancy and is more expensive doesn't mean it's going to offer any additional benefits. What you need is toothpaste that's ADA accepted, contains fluoride, but does not contain any harsh, abrasive ingredients. Simple.
Learn More About Optimal Dental Hygiene From Us
Ask us more about brushing and flossing, so we can educate you on the best way to approach your dental hygiene. Find out if you're making good choices by scheduling a visit with your Ankeny, IA dentist today! Contact Peddicord Family Dentistry to set up an appointment by calling 515-963-3339.