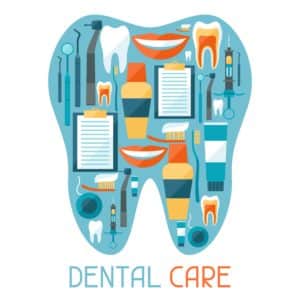 The truth is that some cosmetic and restorative dentistry techniques overlap. For instance, implants, veneers, crowns, bonding, and more can be used for both cosmetic and restorative procedures. What's different is the reason they are being used. If you have a chipped tooth, you may choose a porcelain veneer to cover the tooth and hide the chip, or you may have the tooth bonded, or crowned. The reason you are having whichever procedure you choose is for restorative purposes, to fix your tooth. Cosmetic dentistry, on the other hand, is purely for esthetic reasons, to enhancement the beauty of your smile. Read on to find out more about the difference between cosmetic and restorative dentistry.
Restorative Dentistry
Restorative dentistry can be defined as the diagnosis and repair of damaged, diseased, or missing teeth and their supporting structures. Restorative procedures restore the structure and function of your dentition. As a result of restoring the function, the esthetics are usually greatly improved as well, but the reason for the procedure/s is to reinstate the health and function of your teeth and bite.
Cosmetic Dentistry
While cosmetic dentistry can also "restore" the health and function of your teeth, in many cases the procedures are simply to improve the beauty of your existing teeth and smile.  A cosmetic dentist is a general or restorative dentist who has sought extensive training in smile design and the treatments and procedures that improve the beauty of your smile. They can perform restorative dentistry, but they also have the expertise to provide you with a smile that will boost your overall confidence and appearance.