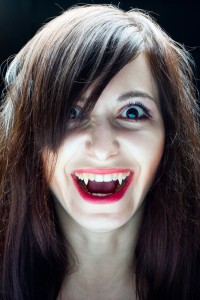 With all the popular books, TV shows, and movies, vampires are in…but you may not want to look like one. If your bicuspids are super pointy, verging on "vampire teeth," they can be corrected with an easy and minimally invasive procedure. Odd shaped, unevenly shaped, chipped teeth, and overlapping teeth can all be remedied too. If you are unhappy with your teeth and your smile, schedule an appointment with your Ankeny, IA, family dentist, Dr. Ericka Peddicord, for a consultation on how to improve your smile.
Instant Gratification
Unlike braces, which take years to work, the results of tooth contouring are instant.  You can see results in just one visit. Tooth contouring is a cosmetic dentistry technique that removes small amounts of tooth enamel to reshape one, or several teeth. The procedure can change the shape, length, and surface of the tooth, eliminating pits and grooves. Merely a few millimeters of tooth removal can improve your smile, and improve the health of your mouth, by eliminating areas that encourage plaque growth. Patients with strong enamel are good candidates for the procedure.
The Procedure
Once dental x-rays are taken to determine the strength of your enamel, and other features of your teeth, your dentist, Dr. Peddicord, will highlight the areas of your teeth that need reshaping. Next she will use a graded series of shaping tools that will sculpt, smooth, and polish each tooth. The procedure usually does not require anesthesia.
Pros And Cons
The advantages of tooth contouring are:
It is a conservative procedure.
It is quick.
It is simple.
It is not very expensive.
It is said to be a painless procedure.
In some instances it can be a substitute for braces.
The disadvantages of tooth contouring are:
The results are not dramatic.
If too much enamel is removed you can experience tooth sensitivity and be at risk for breakage.
The procedure may not be covered by your dental insurance.
About Your Ankeny Dentist
Dr. Peddicord offers a complete range of preventative, cosmetic, and restorative dental procedures as well as high quality dental prosthetics. If you have questions regarding tooth contouring, Dr. Peddicord can answer your inquiries, and provide the services you need to maintain the health, beauty, and function of your teeth. To schedule an appointment with Dr. Erika Peddicord, please contact us at 515-963-3339. Our Ankeny, IA, office proudly provides general and cosmetic dentistry services to patients from Bondurant, Polk City, Elkhart, Alleman, and Cambridge.