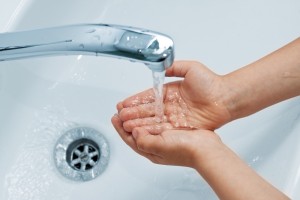 National Handwashing Awareness Week takes place from December 2-8, reminding us to keep our hands clean. Since we use our hands for so much each day, it's difficult to have germ-free fingers and palms. But, aside from washing them, there are other ways to avoid the germs that build on our hands. Dr. Erika Peddicord, your Ankeny family dentist, explores the link between handwashing and oral health.
The T Zone
Did you know that the eyes, nose, and mouth are the only entryways that allow for respiratory infections? This area is called the T Zone. The mucous membranes in this area are susceptible to germs hands pick up. Doctors suggest washing hands before eating and whenever they are dirty to avoid a large number of germs on the hands. While it may be difficult to not touch the T Zone, people should take extra care to not reach into their mouths. Save removing food stuck between teeth for later brushing or flossing. Before flossing, wash your hands to deter sickness. Germs from your own T Zone could get someone else sick too. Avoid spreading germs by coughing or sneezing into your elbow instead of your hands.
Avoiding Health Problems
In addition to respiratory illness, passing germs through the T Zone can lead to gastro-intestinal disease. Dirty hands could not only lead to systemic health issues, but also oral problems. Introducing high levels of bacteria to the mouth can cause bad breath and gum disease. Regular brushing and flossing can eliminate excessive bacteria. To ensure your hands are not carrying unwanted germs, doctors suggest the Sniff Test. This is a simple self-examination that determines, based on smell, if your hands need washing. Of course, if they smell clean, they are most likely clean. During Handwashing Awareness Week, we strive to share these methods of preventing oral complications from illness. Help us spread the word on handwashing this week.
Schedule an Appointment with Your Ankeny Dentist
If touching your T Zone has gotten you sick, visit our 50021 dentist office. Preventive dentistry services, like routine cleanings, help keep your mouth clean, which can improve your overall health. Call (515) 963-3339 to schedule your appointment today. We welcome patients from Ankeny, Cambridge, Sheldahl, Maxwell, Collins, and surrounding neighborhoods.