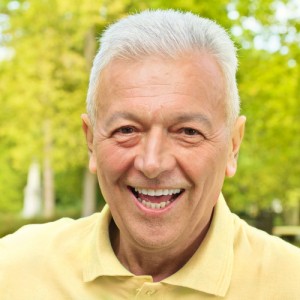 If you wear dentures, you know the frustrations and embarrassments associated with them. The pastes are irritating; the fit is often imperfect; and they may seem in constant danger of slipping. Worrying about your dentures can negatively affect your self-confidence and the quality of your life. If only there were a way to restore you own natural teeth and rid yourself of the daily struggle with dentures. Well, there is, to an extent. While regrowing your natural teeth isn't possible, you can secure your dentures to your jaw with dental implants so that they function more like natural teeth. Your Ankeny dentist, Dr. Erika Peddicord, shares three benefits of implant-secured dentures.
Three Benefits of Securing Your Dentures
Improved speech. Dentures that fit improperly are at a constant risk of slipping. In an attempt to keep the dentures in place, facial muscles tense, causing difficulty speaking. Because implant-secured dentures are attached to the jawbone by means of dental implants, your dentures will be held securely in place, allowing you to speak clearly without slurring your words.
More food options. With implant-secured dentures, a whole new menu will be available to you. The implants will hold your dentures securely while you dine on apples, steak, and any number of tough foods. If you're in doubt about the ability of dental implants to hold your dentures in place, consider this: dental implants are coated in a special substance that encourages the jawbone to grow around them and fuse with them.
Relief for your gums. Implant-secured dentures do not rest on the gums. For this reason, your gums will feel relief from the irritation often caused by dentures.
Schedule a Visit with Your Ankeny Dentist
Are you tired of your dentures? Do you want to speak and eat without worry? Implant-secured dentures may be right for you. If you want to secure your dentures with dental implants, schedule an appointment or consultation with your Ankeny dentist, Dr. Peddicord, today by calling 515-963-3339. Our 50021 dentist office welcomes patients from Ankeny, Bondurant, Cambridge, Sheldal, Maxwell, Collins, and all surrounding communities.