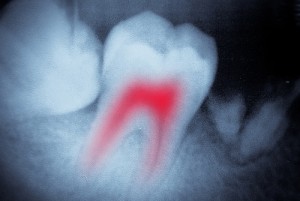 If you're like most people, the term "root canal" sends a shiver down your spine. Unfortunately, over the years root canal therapy has gained a terrible and undeserved reputation. When a tooth suffers from a painful infection or abscess, root canal therapy helps ease the painful symptoms and restores the tooth to optimal health. In today's blog, your Ankeny dentist, Dr. Erika Peddicord, uses a fun and informative quiz to explain the importance of root canal therapy.
Root Canal Therapy Quiz
1. True or False: Toothaches and tooth sensitivity are common signs of an infected tooth.
2. True or False: Without treatment, an infected tooth may require removal.
3. True or False: Root canal therapy allows your Ankeny IA general dentist to remove the infected tissue.
4. True or False: Using a crown, Dr. Peddicord will restore your tooth following the procedure.
Answer Key
1. True. When a tooth suffers from decay, the bacteria may eventually reach the inner pulp. When this happens, an infection sets in. Signs of an infection include: tooth sensitivity, persistent toothaches, pain when biting down or chewing, and swelling around the tooth.
2. True. An infection may eventually cause the pulp to die effectively killing the tooth. When this happens, the tooth needs to be extracted before the infection spreads to surrounding teeth.
3. True. During a root canal procedure, Dr. Peddicord will open the tooth and remove the infected tissue. She will then disinfect the root canals and add restorative materials to the tooth.
4. True. Finally, Dr. Peddicord will place a crown over the tooth. The crown protects the remaining tooth structure and prevents further infection. A crown also restores the tooth, blending seamlessly with your smile.
Schedule an Appointment with Your Ankeny IA General Dentist
If you exhibit the common symptoms of a advanced tooth decay or an infected tooth, then talk to your Ankeny, IA general dentist today. Dr. Peddicord may recommend root canal therapy to restore your tooth to full function and appearance. To schedule an appointment, call us at (515) 963-3339. Also, visit our website for patient forms, oral care tips, and to learn about our team. We happily serve new and existing patients in Bondurant, Polk City, Elkhart, Alleman, and Cambridge, and neighboring areas.