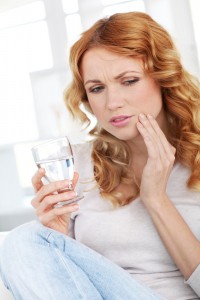 As with most bodily ailments, toothaches tend to occur suddenly. The unexpected pain may seem endless and your first priority is finding relief. Moreover, since tooth pain isn't a one-cause type of discomfort, a visit to the dentist is in order. In fact, occasionally, tooth pain develops as a side effect of ear infections or temporomandibular joint disorder (TMD). Should your pain begin at a late hour, try a few at-home remedies as a temporary fix. Your Ankeny, IA dentist, Dr. Erika Peddicord discusses some common causes for toothaches and how to alleviate one.
General Causes of Toothaches
A toothache is a common dental ailment which can arise for a number of reasons. If you have a toothache, it's an indicator of an underlying issue. Your toothache could stem from:
A cavity. This is the most common cause of toothaches.

Gum disease that has begun to affect the tooth.

A severe crack in the tooth.

An exposed tooth root.
Furthermore, ignoring an aching tooth will only allow the pain to worsen. It's essential that you visit the dentist quickly to assess and locate the problem.
What to Do to Relieve the Discomfort
Should you have a toothache, your Ankeny, IA dentist recommends a taking a few precautions before coming into the office. While emergency dental care is available, keeping yourself comfortable is necessary until treatment can begin. Dr. Peddicord suggest:
Rinsing your mouth out with warm salt water.

Flossing around the area to remove any lingering food particles.

Taking ibuprofen as needed per the directions.

Dabbing the tooth with clove oil—a known toothache reliever.
Visit Peddicord Family Dentistry for Tooth Pain Treatment
If you're experiencing any kind of tooth pain, take care to visit your Ankeny, IA dentist as soon as possible. Dr. Peddicord can diagnose the cause of the ache and treat your ailment. To schedule an appointment, call us at (515) 963-3339. Also, visit our website for patient forms, oral care tips, and to learn about our team. We happily serve new and existing patients in Bondurant, Polk City, Elkhart, Alleman, and Cambridge, and neighboring areas.