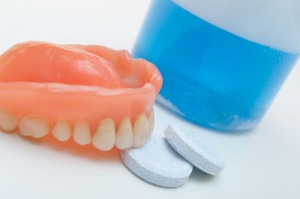 Do you wear dentures? If you do, then you're already aware of the nightly cleaning procedure. Throughout the day, dentures—much like natural teeth—accumulate quite a bit of bacteria from eating. The lingering food particles nestle in the grooves of the dentures, which can stain the dentures and even cause bad breath. While most patients use traditional denture cleaners, a homemade denture cleanser works the same. Dr. Erika Peddicord, your Ankeny, IA dentist, shares how to make an effective denture cleaning solution right at home.
These At-home Solutions Can Clean Your Dentures in a Jiffy
Peroxide bath.

This brown-bottled solution is found in almost every teeth whitening solution. Plus, it serves as great everyday cleaner. To clean your dentures with peroxide simply add peroxide and a little water to glass. Then, allow the dentures to soak overnight. Peroxide keeps

dentures

clean and bright; plus, it's inexpensive and easily found in just about every pharmacy.

Baking soda and vinegar solution.

Denture cleaners usually bubble and fizz when mixed with water. If you would like a similar, cheaper alternative, use vinegar and baking soda instead. Take a teaspoon of baking soda and add it  to your

denture

cup. Then place the dentures inside, and pour enough vinegar (white distilled) to submerge them. Let those soak overnight and follow your morning cleansing routine as usual.

Bleach water mixture.

Bleach is a known germ-killer and it can make your dentures squeaky clean, too. To make a bleach solution, your

Ankeny, IA

dentist suggests using two parts of water for every one part of bleach. A bleach water bath cleans and deodorizes exactly like a denture cleaner.
Peddicord Family Dentistry Treats Senior Patients
For more tips and tricks on maintaining your dentures clean, visit Dr. Peddicord for a consultation. She can talk to your about proper denture care to ensure your tooth replacements won't endure any damage. To schedule an appointment, call our Ankeny, IA dental practice at (515) 963-3339. Also, visit our website for patient forms, oral care tips, and to learn about our team. We happily serve new and existing patients in Bondurant, Polk City, Elkhart, Alleman, and Cambridge, and neighboring areas.