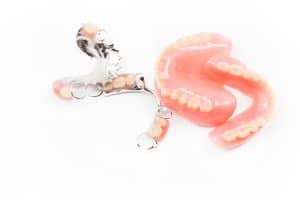 If you have between one and three missing teeth in a row, then your Ankeny, IA, dentist may use a bridge to fill this gap and protect your oral health. But what if you lose a greater number of teeth, possibly all of them? In today's blog, we're looking at full and partial dentures, and explain how we craft them and why you need them!
Partial Dentures
If you lose multiple natural teeth, and have gaps in multiple places in your smile, then we may suggest a partial. This option works for people who don't need a full denture yet, but still need more than a bridge or an individual dental implant. The partial prosthetic will be created based on detailed impressions and images we take of your smile. This ensures it fits comfortably and provides a durable and dependable chewing surface. The prosthetic itself will contain an acrylic base that mimics gum tissue, and lifelike teeth crafted from strong ceramic material.
Full Dentures
A full replaces every tooth on one or both arches. Again, this one will be created based on detailed impressions and images, and again, there will be an acrylic base that mimics gum tissue. However, this time there will be a full row of new, lifelike teeth. You gain a complete smile!
Implant Options and Long-Term Benefits
Removable prosthetics will be held in place with metal clasps that attach to natural teeth. Fulls will rely on suction and possibly a special adhesive. These will be removeable, and require cleaning and soaking periodically. They tend to last 5 to 10 years, as the then need replacement when the jaw ridge changes shape.
Implant options are attached to dental implants inserted into the jaw. These implants act as new tooth roots, which preserves jaw tissue and prevents ridge shape changes. Your new prosthetic can last decades, may been a lifetime. They're fixed in place, so you don't need to remove them for cleaning and soaking, and they will never slip when you eat or speak. If you have any questions about treating tooth loss, or about how we create and maintain a lifelike prosthetic, then contact our team today. We want to help you maintain a strong and beautiful smile, one that makes you proud to smile!
Do You Have Questions About Our Custom-Made Dentures?
If you have multiple missing teeth, you don't have live with poor oral health and embarrassing gaps in your smile. To learn more about replacing your lost teeth, then please schedule an appointment by calling Peddicord Family Dentistry in Ankeny, IA, today at (515) 963-3339. We also proudly serve patients of all ages who live in Bondurant, Polk City, and all surrounding communities.