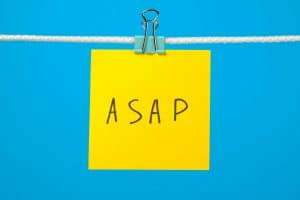 Do we want you to feel stressed out once you're dealing with tooth loss? Absolutely not! We know that when you're dealing with the fresh experience of missing teeth, it can be quite upsetting. What our Ankeny, IA team does want? For you to feel much better about your smile not by rationalizing to yourself that you should just "get used to" the loss of teeth teeth but by quickly seeking care from our practice. Did you know that when you're motivated and take care of the issue, you can get your smile back (this includes function and beauty, of course) faster than you thought possible? Consider additional details.
Meet With Us
First, don't worry about any of the details that are already filling your mind. You're thinking about the amount of teeth you lost, which types of prosthetics might work for you, how much they will cost, how much you feel comfortable budgeting, and more. When you become too overwhelmed before you even speak with us, it can cause you to feel anxious and even to reconsider. This is why we always simply suggest scheduling a visit to learn more. You're not signing up for anything or committing to anything. You're coming in for an education regarding fixing your smile!
Consider The Importance
Don't overlook the fact that ignoring tooth loss is a big deal. The longer you ignore it, the bigger deal it becomes. There are some very straightforward reasons for this:
When you have an opening, your teeth can shift. This can affect your smile's balance and alignment (and appearance).
Openings make for more difficult dental hygiene, which can yield oral health problems.
You might feel uncomfortable about your smile's appearance.
Missing one or more teeth makes for challenging eating and talking.
We Offer Lots Of Choices!
Another reason to quickly address your tooth loss with us? When you've got the motivation to do so, you'll find that coming in to consider and choose one of our comprehensive listing of solutions is easy. We provide you with the choice of dentures, partials, dental bridges, and implant restoration (we can refer you to a trusted oral surgeon for placement). Before you know it, you'll have your smile again!
Replace Missing Teeth With Us Immediately
Ready to replace the teeth you have lost? Come in to talk with us ASAP about your choices. Find out if you're making good selections by scheduling a visit with your Ankeny, IA dentist today! Contact Peddicord Family Dentistry to set up an appointment by calling 515-963-3339.