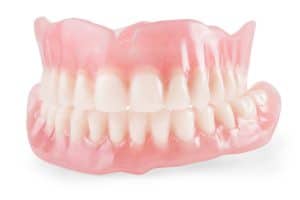 If you lose most of your teeth, or even all of them, there is still hope to obtain a full and functional smile again, even one that looks natural! In today's blog, your Ankeny, IA, dentist is looking at the process of crafting and placing a full denture, whether removable or held in place with dental implants!
The Dangers of Total Tooth Loss
Losing the majority of your teeth could mean serious trouble for your smile. For example, you could have trouble eating solid foods, which in turn deprives you of nutrients as you rely more and more on soft foods only. You could also have trouble speaking clearly, which leads to tissues with your social life. The breakdown of jawbone tissues following tooth loss could also mean negative changes to your facial structure, leading to an aged appearance. To preserve the health and function of your smile, and improve the overall beauty, you need to obtain a prosthetic.
Extraction and Prosthetic Design
We will first carefully examine your smile with advanced technology to identify the underlying causes of your tooth loss and decide on the best course of treatment. We may need to extract any remaining teeth, especially if they are diseased or infected. We then take detailed impressions, measurements, and images of your smile, which we use to design and craft the denture in a lab setting. The prosthetic will contain a full row of lifelike teeth created with durable materials such as ceramic, and set in an acrylic base that looks like gum tissue.
Placement and Management
If the denture is removable, then it will be held in place with natural suction if placed on the lower jaw, or perhaps the assistance of a special adhesive for the upper arch. These require removal for soaking cleaning periodically, and tend to last five to ten years, requiring replacement as the jaw ridge changes shape. However, we can also place multiple dental implants per arch and attach the prosthetic to them. This stimulates the growth of jawbone tissue to prevent changes to jaw ridge shape, so you smile stays youthful and your prosthetic could last for decades to come. If you have any questions about our approach to treating tooth loss, or about how we craft a natural-looking denture, then contact our team today. By scheduling a visit now, you can start your journey to a full smile and use any remaining dental insurance benefits before they expire at the end of December.
Do You Have Questions About Our Full Dentures?
At Peddicord Family Dentistry, even total tooth loss can be addressed with a custom-made and lifelike dental prosthetics.  Call Dr. Peddicord in our Ankeny, IA office at (515) 963-3339 to learn more about our custom-made solutions for minor and severe tooth loss.