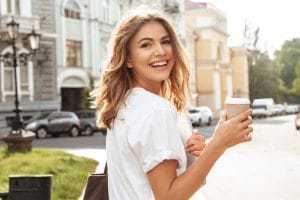 The most common threats to your oral health include oral bacteria, which can ultimately result in plaque and tartar buildup. When plaque builds up on and around your teeth and has not been consistently monitored or handled during a routine checkup, it can result in a cavity. A cavity, in essence, is a hole in your tooth that results from oral bacteria eating away and infecting the tooth. In its early stages, it can easily be filled and managed. If you wait too long, however, you may suffer from tooth decay or even worse – losing your teeth completely. Staying on top of your oral health is a must, and fortunately, Peddicord Family Dentistry in Ankeny, Iowa can provide routine care and check-ups to make managing cavities simple and efficient.

The Natural-Looking Solution to a Cavity
When addressing cavities, your dentist will first clean your teeth so as to remove the harmful bacteria contributing to the problem. After that, the cavity is then filled with a composite resin that is shaped and hardened so as to prevent harmful bacteria from entering the tooth, while providing a natural-looking finish and shape to your tooth. At Peddicord Family Dentistry, we offer tooth-colored fillings to mimic the appearance of your natural teeth, perfecting your smile and preserving your oral health all in one go.
Long-Lasting Effects
Our Ankeny, Iowa Dentist provides natural-looking fillings that are metal-free, restoring your smile and ensuring your oral health is taken care of. Our office utilizes tooth-colored composite resin to create a lifelike appearance, which is one of the long-term advantages of our tooth fillings. Additionally, the resin will be bonded to your tooth securely, creating a tighter seal against harmful bacteria than ordinary metal fillings can, in addition to further preserving the health of your smile while reducing the chances of reinfection or tooth damage. This safe and discrete method can provide the satisfactory results you need and can be performed in a simple office visit. For more information about your tooth-colored filling options or to schedule an appointment, contact our office.
A Healthier Smile for a Happier You
We at Peddicord Family Dentistry are well-versed in the negative impacts of not staying on top of your oral health, and while we provide services to attend to each issue, it is best to handle any threats to your health as soon as you are aware of them. We offer tooth-filling services that not only protect your well-being and prevent further infection, we also take into account the quality of your smile as well, providing natural-looking solutions to preserve your smile. Call Dr. Peddicord in our Ankeny, Iowa office at (515) 963-3339 to learn more about our tooth-colored fillings and what you can do to ensure the quality and health of your smile.