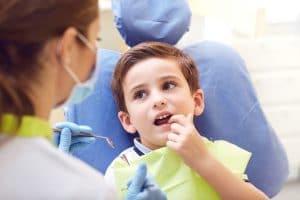 Last week we explained why a checkup is important for adults, but kids of all ages also benefit from a routine exam and cleaning every six months too. In today's blog, your Ankeny, IA, dentist is looking at the preventive care we offer for kids in our community, and why the start of summer break is a great time to set up a visit.
Checkups and Cleanings for Kids
The first visit for a child should happen around age one, once the first baby tooth has arrived. Afterward, visits every six months means we can monitor the smile as your child grows, watching for signs of concerns that could indicate developing decay, gingivitis, or misalignment. The sooner we identify these issues, the sooner we administer treatment to preserve the health and function of your child's smile. These visits have also been known to lower dental anxiety and help kids better understand the importance of routine care at home and in the office.
Children also need dental cleanings for the same reasons adults do. Plaque buildup, a bacterial byproduct, forms over time and is impossible to remove with brushing and flossing alone. Unless addressed, plaque could increase the risk of tooth decay and gingivitis. The procedure only takes a few minutes to complete, and also helps fight bad breath and teeth stains too!
Fluoride and Dental Sealants
To help protect little smiles from cavities, we may suggest preventive treatments. For example, during each checkup and cleaning visit, we can apply a special fluoride varnish to the teeth. This varnish helps re-mineralize and strengthen the outer enamel, your smile's defenses against harmful bacteria. We could also provide a dental sealant, which involves coating the rear teeth with a special acrylic material. The sealants last for years and prevent food from becoming trapped between the rear teeth, which are often difficult for kids to reach when they brush and floss. They then wear away naturally with time.
Fillings
If we do discover a cavity, we can offer treatment in one visit with a dental filling. We use a biocompatible and lifelike material known as composite resin, which blends with the smile seamlessly. Remember, treating decay in baby teeth prevents painful infections or the premature loss of a tooth, which could otherwise cause misalignment!
Do You Have Questions About Children's Dental Care?
We're ready to help your little ones obtain stronger and healthier smiles with preventive care. To learn more about protecting kids from cavities, then please schedule an appointment by calling Peddicord Family Dentistry in Ankeny, IA, today at (515) 963-3339. We also proudly serve patients of all ages who live in Bondurant, Polk City, and all surrounding communities.