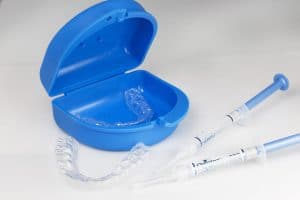 While many store-bought products promise dramatic results from home, they often lead to minor whitening and sensitive teeth. Fortunately, your Ankeny, IA, dentist provides a professional alternative with our custom trays and bleaching gel. With our home-based teeth whitening option, you may be able to enjoy teeth brightened by several different shades, with dramatic results that last for months to come!
Creating Your Trays
The process starts with an initial office visit. Our team will carefully examine your smile to assess the cause and severity of your discoloration. If we think at-home whitening is the best option to brighten your teeth, we will take detailed impressions and images of your smile, using them to craft a set of plastic trays. We then send you home with these trays and a powerful bleaching gel to begin your treatment.
Treatment From Home
The custom trays will fit comfortably and ensure the whitening gel is spread evenly across your smile. Each day, you will fill the trays with gel and wear them for a set amount of time decided by your dental, usually between 30 and 45 minutes. After about a week to ten days, your teeth could be brighter by several different shades. The process helps offer stunning results without causing serious tooth sensitivity, and you can keep the trays and any remaining gel for touch-ups in the coming months as stains begin to reappear.
Keeping Your Smile Brighter for Longer
Our patients often wonder what they can do to help their results last as long as possible. Well, try to prevent plaque buildup, which cause stains to become more visible, and also avoid habits that stain teeth. For example, when we brush and floss our teeth daily, we remove food particles that feed bacteria and cause plaque buildup to accumulate on the surfaces of our teeth. Cutting back on drinks with tannins and dark pigments, like soda, tea, red wine, and coffee, could also keep your smile brighter. Remember that cigarettes and other tobacco products not only increase your cancer risk, but also discolor your smile too. Finally, be sure you see us every six months for a dental cleaning too, so we can remove all plaque and tartar to keep your smile brighter (and healthier). If you have any questions, then please contact our team today to learn more.
Do You Have Questions About Cosmetic Dentistry?
Our team is ready to help you address your esthetic issues and enjoy a brighter smile. To learn more about teeth whitening, then please schedule an appointment by calling Peddicord Family Dentistry in Ankeny, IA, today at (515) 963-3339. We also proudly serve patients of all ages who live in Bondurant, Polk City, and all surrounding communities.