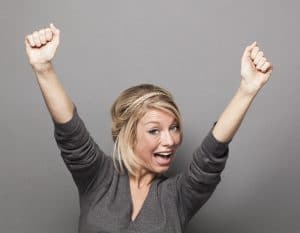 It's very easy to begin feeling awfully sorry for yourself when you realize you are anything but pleased with the appearance of your smile. Why has it yellowed, you wonder? What did you do to end up with those unsightly chips? What will you ever be able to do about that gap between your teeth and why are you the one with a smile space, you wonder? We get it. When you cannot make an instant change all on your own, it can feel very limiting. The wonderful news, however, is that our Ankeny, IA team can make it extremely easy for you to make those change with our help. So, let's hear three cheers for cosmetic dental care!
#1: It Addresses Anything
Yes, really, if you are dealing with an issue in regard to the appearance of your smile, we remind you that we can pretty much fix any esthetic problem you're having. While you may worry that what you really need is access to 20 different treatments in order to make your smile look better, the truth is that the options we provide are like little powerhouses. You can enjoy a full spectrum of cosmetic changes. All it takes it getting started by talking with us about what it is you need and want for your grin!
#2: It's Easy To Access
Did we mention that you have access to cosmetic dental care? The primary requirement, of course, is that your smile is healthy. Even better? If your smile isn't healthy right now, we can fix it so that it is! So, pretty much, candidacy is simple to achieve. Then, accessing the care you need is extremely easy, too. You just tell us what you want, we tell you what will work best, and then you schedule a day and time that will be convenient for you. Want a whiter smile, to close spaces, to cover up blemishes, change the size of your teeth, etc.? Whatever it is you need, our team is here to help!
#3: It's Safe And Effective
We often find that patients feel comfortable and confident in preventive and restorative care but a bit leery of cosmetic dental care. Remember: Every step we take, whether it's protecting, restoring, or improving your smile, is done so with the safety of your smile as a priority, as well as achieving the desired results.
Access Cosmetic Dental Care With Us
Ready to make changes to your smile, so you can feel good not only about its health but also about the way that it looks? Wonderful! Get in touch with our team soon to learn more about accessing the cosmetic care you need. Find out if you're making good choices by scheduling a visit with your Ankeny, IA dentist today! Contact Peddicord Family Dentistry to set up an appointment by calling 515-963-3339.