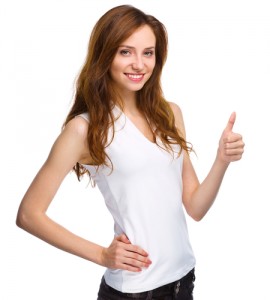 A chipped tooth can be very detrimental to a smile's appearance because the irregular shape caused by the damage will draw the eye to it. Thus, even a small chip can become the center of attention, making the chipped tooth's repair a priority for restoring a smile's beauty. But how exactly is a chipped tooth repaired? To find out, read below as your Ankeny IA dentist, Dr. Erika Peddicord, discusses three methods for repairing a chipped tooth.
How a Chipped Tooth Is Repaired
Dental bonding. Dental bonding is a process similar to sculpting a section for the damaged tooth. It involves the application of a composite resin material to the tooth, which is then formed into an ideal shape to repair the tooth. This material is also used to fill cavities and is very popular because of its durability and color. Once the composite resin has been sculpted, it must be hardened with a curing light. Then it can be smoothed and polished to complete the restoration.
Tooth contouring. Sometimes, teeth develop very small chips that, nonetheless, draw the eye. For this kind of damage, tooth contouring may be the best option. Tooth contouring improves the shape of a tooth by removing small amounts of enamel. By smoothing the edges of a tooth, a new shape can be created which can dramatically influence a smile's appearance.
Dental crown. When the damage to a tooth is larger or when a tooth is weak and could suffer further damage, a dental crown can offer impressive cosmetic results as well as significant strength to reinforce the tooth in question. Dental crowns are made out of a variety of materials to suit the various demands of different locations in the mouth. For restorations in the back of the mouth, porcelain-fused-to-metal crowns are a great option because they combine nice cosmetic results with superior strength. For restorations in the front of the mouth, where teeth are more visible and are under less strain, porcelain crowns are generally the best choice because of their unparalleled cosmetic results.
Schedule a Visit with Your Ankeny IA Cosmetic Dentist
Do you have a chipped tooth that you need repaired? If so, contact your Ankeny IA cosmetic dentist, Dr. Peddicord, today by calling 515-963-3339. Our 50021 dentist office welcomes patients from Ankeny, Bondurant, Cambridge, Sheldal, Maxwell, Collins, and all surrounding communities.