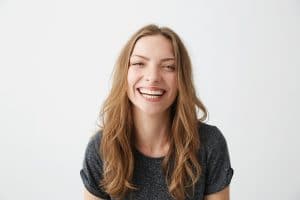 Don't think for one second that you're the only person who has ever spend time poring over your smile in the mirror, wishing certain things could be different, wondering if you're overreacting, and then taking a bit of time to obsess over what you smile could look like. Fortunately, you aren't out of luck (nor do you have to wait for a magical genie to appear to grant you your wishes). All it takes when you feel like it's time to get headed toward a smile you actually really like looking at in the mirror is some time with our Ankeny, IA team. In addition to just about anything else you might need for your smile, we offer cosmetic dentistry! Translation: We can help you out!
If It's The Shape Of Your Teeth (Or Overall Smile)
Is it the shape of your teeth that has got you down? Fortunately, the use of cosmetic dentistry treatments called bonding and contouring lets us beautifully reshape each tooth, so you are happy with your overall smile. Consider the following:
Maybe you have one or two teeth that "stick out" because they don't look quite right due to their shape. We can fix this.
Perhaps the length of your teeth cause your smile to appear asymmetrical or slightly jagged. We can fix this, as well.
If It's The Shade Of Those Teeth
A-OK with the shape of your teeth but as for the shade of them, unfortunately, you're somewhat down in the dumps? Don't forget that cosmetic dentistry in the form of teeth whitening is an oh-so-popular solution to your problem. Except for very serious stains or discoloration on prosthetics, whitening is usually your one-stop-shop for a much whiter, beautiful grin.
If It's A Whole Lotta' Stuff
Having trouble pinpointing what you need cosmetic dentistry for because in your brain, you keep thinking, "For everything!" but you don't know what to say? Porcelain veneers will usually be able to address your very long list!
If It's Spaces
Nope. Nobody wants little gaps between their teeth! Some don't enjoy a gap between their two front teeth. When you're faced with an esthetic issue like this, rest easy: Veneers or bonding will work wonders!
Bring Yourself In Soon For A Cosmetic Consultation
Take a bit of time out of your busy schedule to see us for a cosmetic consultation, so you can learn all about how we may beautify your smile! Find out if you're making good choices by scheduling a visit with your Ankeny, IA dentist today! Contact Peddicord Family Dentistry to set up an appointment by calling 515-963-3339.