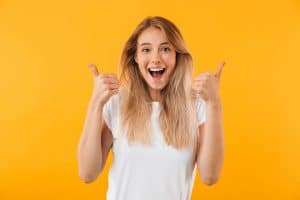 There's something you need to know about smile stains: They happen to most teeth because you use your smile every day. Your teeth are always coming into contact with pigments that can contribute to discoloration so, over time, it's natural to develop some amount of dimming, yellowing, etc. Of course, you can put in the effort to slow the formation of stains, you can treat them with exceptional success with our cosmetic care, and then you can return to doing your best to maintain a vividly white grin! Curious about how to make this full-circle approach to a lovely white smile work for you? Our Ankeny, IA team is more than happy to show you just how easy it is to accomplish.
Do Your Best To Avoid Them
First and foremost, you can very easily do your best to avoid the development of staining altogether. But how, you ask? The answer is simpler than you might think: Keep your smile nice and clean. When you do so, you remove pigments known for causing stains. So, they can't cause discoloration! Of course, you aren't going to be able to keep your smile in pristinely clean condition 24/7. However, with your optimal efforts, you'll keep your smile clean most of the time, which means a much, much slower potential for the development of yellowing and more. This breaks down to the following:
Practice your dental hygiene every day
See our team for cleanings twice a year
Drink water to remove staining particles from your smile throughout the day
Do your best to minimize the amount of strongly pigmented foods you consume
Treat Your Smile With Cosmetic Care
Okay, so you have some staining like most patients! When the time comes that it is impacting your appearance in such a way that you don't feel satisfied with your smile, come to us to receive cosmetic care! In most cases, we will simply provide you with teeth whitening for all over discoloration removal, which reveals brighter teeth. However, if whitening isn't suited to your needs, remember that we offer additional treatments that will.
Strive To Protect Your Brightened Smile
Great, you've done your best to avoid stains, you've received cosmetic care from our team to address the discoloration that formed, and now you have a stunningly vibrant smile that you're happy with! However, you really don't want your fresh-as-a-daisy, snowy white grin to fade. As you may have guessed, it's time to refer back to our initial suggestions for stain prevention (consistent care), so your smile remains lovely! See? Full circle!
See Us For Smile Stain Removal
Take time to come in to meet with our practice for a cosmetic consultation, when you're dealing with discoloration that you would like to address! Learn how to treat stains and prevent future ones from developing! Find out if you're making good choices by scheduling a visit with your Ankeny, IA dentist today! Contact Peddicord Family Dentistry to set up an appointment by calling 515-963-3339.