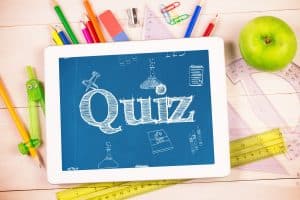 What do you think about choosing a dental bridge for your smile now that you're experiencing a smile that is missing some teeth? Do you think it sounds like a pretty good idea because you've learned a little bit about bridges? Are you not really sure at all because you don't know much about the way a bridge works but you do know it can replace partial loss (which is what you're facing)? Let our quiz be your initial guide! Then, schedule time to see us.
Quiz Questions: True or False?
True or False: When you're thinking about choosing a dental bridge for your smile, you should begin by counting missing teeth. If you're missing more than three of them, it's time to consider a different prosthetic.
True or False: If you want to replace more than one tooth but your two or three teeth have remaining natural teeth that are situated between them, you cannot choose a bridge.
True or False: A bridge is not removable. It's fixed. As a result, it will need to be anchored into your smile over natural teeth, so those teeth must be healthy.
Quiz Answers
True. Dental bridges are wonderful for partial tooth loss. However, they can't help you restore your smile if you're missing over three teeth. Fortunately, we offer other solutions.
True. The reason for this is that a bridge is one continuous replacement. It cannot make room for remaining teeth. You'll need a partial or implants if this is the case.
True. Remember that your bridge will be bonded to teeth that anchor it into your smile, so they must be healthy.
Replace Partial Tooth Loss With A Bridge
Think you're a good candidate for a bridge and want to move forward with care? Let us know by giving us a call! Find out if you're making good choices by scheduling a visit with your Ankeny, IA dentist today! Contact Peddicord Family Dentistry to set up an appointment by calling 515-963-3339.